Ireland's biggest gaming and esports festival, GamerFest, has announced its return, with 5,000 visitors expected at the RDS, Dublin on October 22nd & 23rd. 
Originally established in 2017, GamerFest is a gaming and esports event that has been developed with a community-first approach, welcoming gamers from across Ireland, the UK and Europe. 
At the heart of GamerFest over the last number of years has been the GamerFest Live Stage which sees a huge variety of gaming content across the weekend including esports tournaments, special guest appearances and gaming challenges. 
Visitors to the event can also expect a wide array of gaming entertainment including the latest titles, VR gaming and technology, an expo hall and market place to grab the latest gaming equipment and gear. 
The festival will also showcase the best in Irish gaming content creator talent with the launch of a new Creator Zone where visitors will get the chance to meet their favourite Twitch and YouTube creators at the event.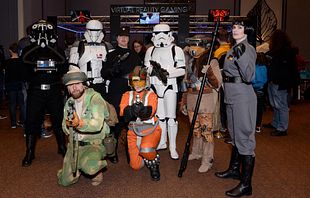 Further announcements regarding special guests will be announced by the organisers over the coming weeks. 
"It's obviously been a really tough couple of years for everyone involved with live events and we certainly haven't been immune," said GamerFest CEO and founder of Legion Esports, Stuart Dempsey. 
"But to see the excitement and anticipation amongst our community for the return of GamerFest is just incredible. We can't wait to see everyone at the RDS this October."
Tickets to GamerFest are on sale now at GamerFest.ie.