Asking someone who their favourite player or team to play as on 'FIFA' is a great icebreaker; when the question is posed to professional football players, it takes on a certain pertinence.
We posed the question to Bohs man Jordan Flores and his answer was instant - "Ronaldinho or Messi".
Flores was present at the launch of the new 'FIFA' game at the Aviva Stadium on Wednesday, and amidst a scrum of sporting journalists grilling the assembled stars about their respective seasons, we chatted to the players about their relationship to the legendary series of football games.
While Flores admits he's "too busy" to still play 'FIFA', he admits that as a kid he dreamed of being on the game.
The midfielder revealed he wasn't too happy with his shooting stats however, and joked that the stats should be higher.
'FIFA 23' will have an extensive suite of modes dedicated to the growing world of womens football, and the Englishman pointed to his own nations success on the field this summer as an example of how the sport is starting to grab just as much attention as their male counterparts.
"There was an incredible attendance at Wembley for the Women's Euro final in July," Flores noted, "and including women's football in the game this year will do a lot to drive interest to the sport."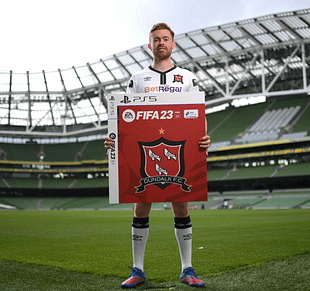 Shelbourne man Luke Byrne was also posed the question of who his go-to team and players were, and his answer was instant; the Manchester United squad that dominated Europe in 2008.
"That holy trinity of Ronaldo, Nani and Rooney up front, man they were great!" he laughed.
Byrne said receiving his own 'FIFA' card was a cause of great excitement in the Tolka Park dressing room, and other players wanted in on the action.
While he doesn't have much spare time to play the game these days, Byrne said he was excited to see himself in the game.
St Patrick's Athletic man Chris Forrester is enjoying a great season with the Inchicore outfit, and joked that being in 'FIFA' is "a great ego boost".
Forrester reveals he is a long-time fan of the series, and says he can still remember the first time the League of Ireland was introduced to the game.
"I remember going into Henry Street to pick up the game on launch day, and people would come up to me saying 'you're in FIFA this year, aren't you?' and I'd say 'yeah, I am!'".
The midfielder revealed he always puts himself up front when he plays the game - as Pats, of course - so he can boost his in-game stats.
Despite his own team flying high in the league this year, Forrester was also happy to see such an emphasis placed on women's football in both the virtual world and in real life.
"Our own women's national team is doing really well at the moment, the last home game against Finland was a sell-out," he noted.
He was hopeful that the inclusion of a women's mode in the game will inspire more young players to make the switch from the virtual pitch to the real one.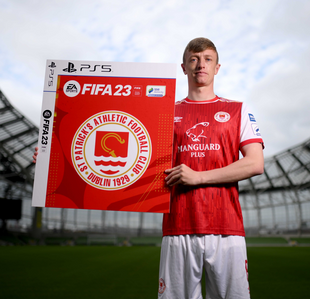 This view was shared by UCD's Michael Gallagher, who said that owing to playing for a university-based theme, there is a strong 'FIFA' contingent.
"You're never too far away from a game of 'FIFA' when you're on campus," he remarked.
Gallagher expressed a fondness for playing as Celtic on 'FIFA' through the years, pointing to the Celtic team of the mid-2000s as his team of choice.
"Shunsuke Nakamura, he was lethal on the free kicks!"
The UCD midfielder said he was hopeful that the new edition of 'FIFA' could serve as a gateway into football for a new generation of women.
"So many people play 'FIFA' every year, myself included, but it's great it's starting to expand out and grab this new audience," he said.
"The game is a great way to get introduced to football, so if young girls pick up the game, it might inspire them to play it for real."