That sound your PC just made is the graphics card crying out in terror.
'Crysis' is making a comeback after the best part of a decade on the sidelines, with 'Crysis 4' officially in development at Crytek.
The news was announced in a blog post by Crytek CEO Avni Yerli, who said: "It's something you have been asking us for a long time, so it's now finally time to confirm – yes, the next Crysis game is happening."
Yerli said the game is in the early stages of development and won't be available for some time, but reassured players "we wanted to bring you the news at this time as we are so hyped for the future, and to let you know that we will be listening to our community."
"Crytek has a proud history of working with our community to develop the games you want to play," the statement added.
"Crysis is incredibly important to so many people – it's beloved by gamers everywhere, and some of those working in the industry today are doing so because of the original game – so we want to make sure the next instalment in the franchise lives up to all of your expectations."
"In the meantime, our dedicated and talented team is working hard to bring you a truly next-gen shooter."
The original 'Crysis' was released in 2007 and is still used as a benchmark game to this day for its graphical prowess.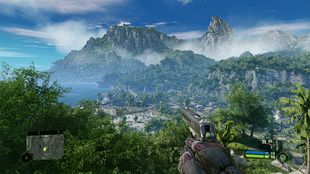 "Can It Run Crysis?" was a popular meme among gamers in the late 2000s and early 2010s which refers to the games taxing demands on gaming PCs at the time.
2021 saw the release of the 'Crysis Remastered' trilogy for current generation consoles, which compiled all three games in one collection.
The Xbox Series X|S and PlayStation 5 next-gen upgrades introduced graphical quality nearly on a par with the original PC version, with ray tracing and 8k textures.
The original 'Crysis' was such a future-proofed game that it supported full ray tracing as far back as 2007 while that feature is only now becoming commonplace with gaming consoles.
As indicated, we don't have a release date for 'Crysis 4' just yet, but that may be a good thing; start saving now to boost up your graphics cards, folks!