One of gaming's biggest franchises could be getting the TV treatment.
Off the back of 'Wheel Of Time' being a hit for Amazon Prime Video and their much-hyped 'Lord Of The Rings' series debuting next year, Amazon have set their sights on another beloved cultural property - the 'Mass Effect' series.
According to Deadline, "Amazon Studios is nearing a deal to develop a series based on the best-selling sci-fi video game franchise from Electronic Arts."
Anyone who's played the games knows the games are ripe for a big-budget film or television adaptation, and the news is sure to excite fans.
The article itself is scant on information about the proposed 'Mass Effect' series, with Amazon Studios head Jennifer Salke saying "You will see us continuing to invest in fantasy genre of all kinds, we have a genre-focused team on the ground in Studios who work tirelessly with our creative partners on those slates, and you can look forward to more."
Previous attempts to get a 'Mass Effect' film off the ground have failed in the past, with a script written by 'I Am Legend' screenwriter Mark Protosevich coming the closest to being made at Legendary.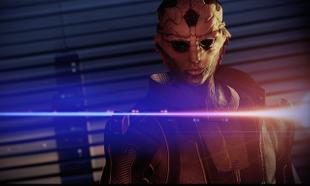 Series director Casey Hudson said in June of this year that an adaptation of 'Mass Effect' coming to screens was "not a matter of if, but when."
Walters said that the movie failed to be made because the format was "too restrictive" for the games sprawling narrative scope and "would fail to do justice to the original concept."
He noted that after a change in leadership at Legendary the studio wanted to move more towards television and that led producers to decide to start over.
 "If you're going to tell a story that's as fleshed out as 'Mass Effect,' TV is the way to do it. There's a natural way it fits well with episodic content," Walters said.
Adapting 'Mass Effect' is a tall order, as the game is famous for it's branching paths and story choices, as well as the gender of Commander Shepherd being left up to the player.
Among the 'Mass Effect' fandom, Jennifer Hale's iconic performance as the female Commander Shepherd has led to 'FemShep' being considered the canon version of the character.
For the first two games, the default male Shepherd model was featured on the box art, but responding to fan feedback, Bioware created a reversable cover for 'Mass Effect 3' that featured 'FemShep'.
No solid information as of yet when 'Mass Effect' will take flight on Amazon, but rest assured, we'll be celebrating at Afterlife on Omega when the news is properly announced.