With the Body & Soul festival just weeks away, we spoke to one of the driving forces behind the recent surge in Irish hip-hop, MathMan aka Adam Fogarty.
Alongside his creative partner and MC Mango, they have made a name for themselves as purveyors of top-quality tunes and the go-to men for those in search of party vibes at any festival.
In addition to Mango X MathMan playing this year's Body & Soul line-up, MathMan will also be taking part in the Hennessy Sound Lounge, which was inspired by Japanese listening rooms of the 1970s. He is one of a selection of vinyl collectors who will dig into their collections and take guests through a personally curated playlist of the tracks they love and are inspired by.
We caught up with him to find out what he has planned.
The last few years have been pretty crazy for Mango X MathMan – can you explain a little about how you first crossed paths?
Myself and Mango actually met at a Beat Battle I was taking part in at the Lyricist lounge in Dublin in the summer of 2011. I was competing in the battle and had made it through to the final. After the event Mango approached me and said he loved what I was producing and that he'd love to get some music from me. That eventually led to me joining the Animators collective and the rest is, as they say, history.
You're renowned for the energy at your live performances – what's the secret ingredient to make your sets  go off?
I guess it's just about being honest and being ourselves. There's no pretence to what we do. We are who we are onstage as we are off it. We also know what it's like to stand in the crowd at a live show and have a great time, so we want to give people everything we can when we're on stage. Also, everything you see on stage at one of our shows is completely organic. We've never rehearsed for any show and we make the set up as we go. Everything is in the moment. The only guarantee is that Mango will probably take the top off at some point. Every show an audience gives us something different. That spark, is all we need.
What's the story with an album, is there a release on the cards this year?
Yes. The Mango X MathMan album is coming this year. We've literally just finished mixing and mastering. It's something we're both very proud of. We're excited for the world to hear it. Early autumn is the drop date.
So you're taking part in Hennessy's Sound Lounge at Body & Soul – what drew you to this project?
It's actually a project I've been a fan of since it first started. The guys at Hen's Teeth, who Hennessy worked with to curate the line-up, are good mates of mine. We share the same love for music, vinyl, art, design and fashion. I believe in the importance and cultural relevance of conversation with these types of events and I think the lads share that vision. I always love hearing people talk about their passions and sharing stories. I think they've really nailed it with the Hennessy Sound Lounge. The guys are also incredibly considered curators, so it was great to be asked to do it. I'm looking forward to chatting through some of my record collection from over the years and talking about my influences.
Why is vinyl so important to you?
Well it's been around me since I was a kid. My mam and dad (especially my mam) was a serious vinyl fiend. The house was always alive with her music - whether she was pumpin' out her favourite Fleetwood Mac or David Bowie records, or my dad with the Dubliners. Actually, my mam used to buy me 7" singles of my favourite pop artists back in the day. I was around 6 or 7 when it started. She'd mostly buy me Michael Jackson singles. That later turned into my own vinyl obsession when I started to DJ. I had my first set of Technics at 15, but had been buying vinyl since I was 14. I used to play my club records on my mam's old record player - one at a time before I bought my 1210s. I guess my obsession with club culture, hip hop and that whole lifestyle kept my passion for vinyl alive. Buying vinyl is a really enjoyable thing to do. Just diggin' and diggin' - looking for something you love or can find inspiration in.
What sort of stuff will you be playing at the Hennessy Sound Lounge at Body & Soul?
I have something really special planned for the Hennessy Sound Lounge at Body & Soul this year. I'm going to do a pure old school UK garage set. I'm going to be playing some of the forgotten classics, rare cuts and some of the more jazz influenced productions of the time. Some of these records haven't been played out in many years, so I'm really excited to give them a spin again. These records are timeless and possibly underappreciated gems. Some of the underground cuts from this era are just incredible. So I'm looking forward to creating a real vibe down there this year. It's gonna be the perfect soundtrack for the Hennessy sound lounge.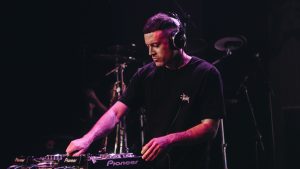 You're also working with Hennessy to curate the Hennessy and Body & Soul presents the Midnight Circus stage on the Friday night. How did you go about crafting the line-up?
Yeah, it was a great honour to be asked by Hennessy to curate their first outing into a big festival stage in Ireland. They've a history in supporting the arts in Ireland over the years and obviously it's a brand synonymous with hip hop. Basically they approached me because they feel I'm a good ambassador for the scene here in Ireland. I'm plugged-in and I do a lot of work with artists behind the scenes – helping them get opportunities, advice, connections, shows, festivals etc. Basically just trying to evolve and elevate the scene. I've also curated stages with a focus on new Irish talent at other big Irish festivals over the last number of years, so I had that experience too.
The line-up this year is something I'm really excited about. I wanted people to get an opportunity to see some of the hottest acts in these genres that they may not have seen before. We've got a couple of Irish debuts on the line-up this year from international acts, which is great. The line-up is also 50/50 Irish and international. That was something very important to me. I know the talent we have here can stand shoulder to shoulder with its international contemporaries, so we'll definitely see that this year on the Hennessy and Body & Soul Midnight Circus stage. Between IAMDDB, Octavian, Ms. Banks, Mango X MathMan, Jafaris and Kneecap – the stage is going to be pumpin from beginning to end.
Can you let us know about anything else that you're working on at the moment?
Keep an eye out for Mango and MathMan on the festival circuit this year. We'll be releasing new music over the summer and the album 'Casual Work' in early autumn. I have some MathMan music coming too as well as some remixes. And defo swing by the Hennessy Sound lounge this year at Body & Soul for the UKG voibes.
*
Hennessy and Body & Soul present the Midnight Circus stage curated by MathMan is on Friday June 21st. The Hennessy Sound Lounge takes place across the weekend at Body & Soul, June 21st – 23rd.
Weekend Tickets for Body & Soul are on sale via Ticketbooth on www.bodyandsoul.ie