Last night Take That and Tim Firth's musical 'The Band' opened at the Bord Gais Energy Theatre. It's an exciting, funny and heart-warming celebration of what it's like to be a music fan. The story follows five teenage girls in 1992 and their experience of growing up idolising a boy band. For these girls, 'the band' are everything. 25 years later we are reunited with the friends, now in their early 40s, as they once again become all consumed by their shared passion for their idols.
The Band is co-produced by Take That members Gary Barlow, Howard Donald, Mark Owen, Robbie Williams, and the score is full of their biggest hits, as well as a couple of their more underrated songs, but this is by no means a musical about Take That. It is a story of fandom, passion, friendship, teenage excitement, and dreams. It's a Take That musical that isn't about their story at all. Their name is never mentioned, yet they are everywhere and enfold the real stars of the show, the girls, in everything they do. It's a true reflection of what being a superfan is all about - adoring the idols who seem to play a huge role in your life, but in actual fact, they're just part of the background scenery.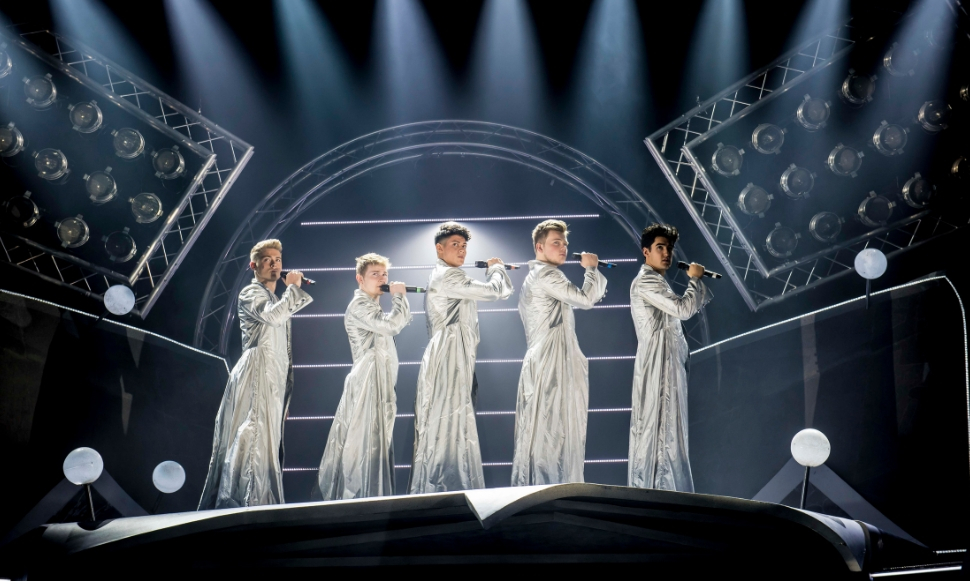 Its feel-good nature and the way in which it celebrates friendship and the passion of teenage dreams, instead of the Take That biography some may expect, reminds us of Mamma Mia in that it takes a very similar approach to its treatment to storytelling. The Band is full of fun and intimate detail, with crowd-pleasing nods to Top of the Pops, Smash Hits as well as other nostalgia-fueled 90s references. With an abrupt twist, the musical deals with a tragedy that really shapes the second act, as well as some other difficult life challenges, bringing the audience on a rollercoaster of emotions that they may not have expected when walking in the door.
Expect to feel all the warm and fuzzies, to be swept back to your own teenage years, but also to shed a tear or two. This musical is delivered with so much heart and genuine warmth that it's impossible not to enjoy it. Take That superfans will have the absolute time of their lives, but the story will also be appreciated and enjoyed by anyone who had a music idol growing up.
The Band is now showing in the Bord Gais Energy Theatre until November 10th 2018