The Cameron Mackintosh acclaimed Broadway production of Boublil and Schonberg's Les Misérables is currently running in the Bord Gais Energy Theatre Dublin. It's nearly a decade since the last sell-out UK and Ireland tour of Les Misérables, so it is not surprising that the show has once again sold out!
I was very lucky to be invited along to see this fantastic production. Having seen Les Misérables numerous times before, I was convinced that there wouldn't be much to surprise me in this version. But boy was I wrong!
The lavish stage musical, based on Victor Hugo's classic book, follows the story of Jean Valjean, a man condemned to 19 years of hard labour for stealing a loaf of bread, and how he eventually fits into the 1832 French Revolution. The score features magnificent songs such as; I Dreamed a Dream, On My Own, Bring Him Home and One Day More, just to name a few.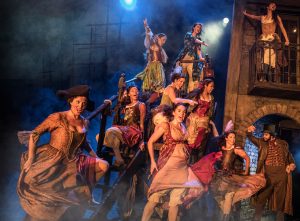 What's different about this version?
For me, two things really stood out and made this version of Les Misérables the best I've ever seen. Firstly, the lead role of Jean Valjean being played by our very own Killian Donnelly added a certain air of electricity that I've not felt in an audience before. You could feel the excitement and enthusiasm in the room, with all 2,000 audience remembers just wishing him to do well throughout. And he did not disappoint. His rendition of Bring Him Home would send shivers up your spine.
The second highlight, for me, was the staging. This brilliant new staging has a new design featuring many of Hugo's works of art, and they feature particularly effectively in some key scenes in the second half. The power of special effects and visual trickery has really brought Les Misérables into a new era. It was unlike any production I've seen. The fluidity in which each scene transitioned into the next was fantastic.
If you have tickets to go see this production, you will not be disappointed.
Les Misérables will be in the Bord Gais Energy Theatre until Saturday, January 12 2019.