The brand new Otherside Music & Arts Festival is coming this July 8-10 for a three-day celebration of music, dance, art, comedy, wellness, food and connection.
Among the acts are headliners Lane 8 and DJ Seinfeld. Joining them are the likes of Le Boom, Malaki, Lemoncello, Soda Blonde, Ye Vagabonds and The Scratch.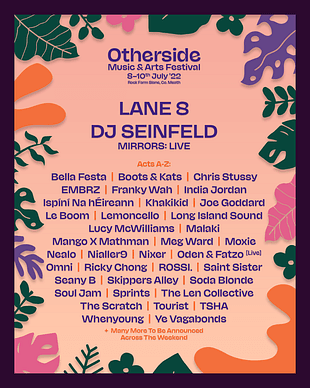 Rock Farm sits in the shadow of the famous Slane Castle, a mere 40-minute drive from Dublin.
The Cobblestone Bar, District Magazine, The Midnight Disco and Melodic will all host stages.
The team at RISE Nordic Spa are organising morning swims and a poolside cocktail bar. Wood-fired hot tubs, saunas and morning yoga sessions are also an option.
Late-night areas include the likes of an after-hours Trad session programmed by The Cobblestone. There's also the choice of dancing into the early hours at the Forest Stage, so there will be a place for everyone.
There is also a stellar comedy line-up including Anna Clifford, Emma Doran, Killian Sunderman, Michael Fry, Peter McGann, Shane Byrne, Simon Hennessy and Tony Cantwell.
For camping, there's a choice between our sustainable campsite or a glamping upgrade.
The festival will be teaming up with the best local food traders, offering rich and nourishing quick-bites and a sit-down restaurant serving up brunch and evening meals. Pop up bars will be stocked with cocktails, wines and draught beers throughout the weekend.
Ticket details for Otherside are below:
Tier 1 tickets at €125 are sold out with tier 2 running low at €135. Tier 3 (€145) and tier 4 (€155) tickets are still readily available. Group tickets are also available at €116 per ticket (Buy 5 tickets for the price of 4).
Installment Plan Ticket - €52 to secure your ticket (Three installments)
Tickets are on sale now via Ticketmaster.ie.