The bus will make a total of eight journeys over the course of the weekend, where it will be stopping in local towns popular for B&Bs amongst festival goers. The bus is a direct response by Heineken Live Your Music to make your life easier at Other Voices this weekend.
A spokesperson for Heineken Live Your Music has said the service is "to offer a solution to the annual struggle festival goers face with trying to get home once the music ends each night to the far flung corners of the Dingle peninsula."
The free shuttle bus service will operate over the next three nights from various points in Dingle. See below for all of the times and pick-up points.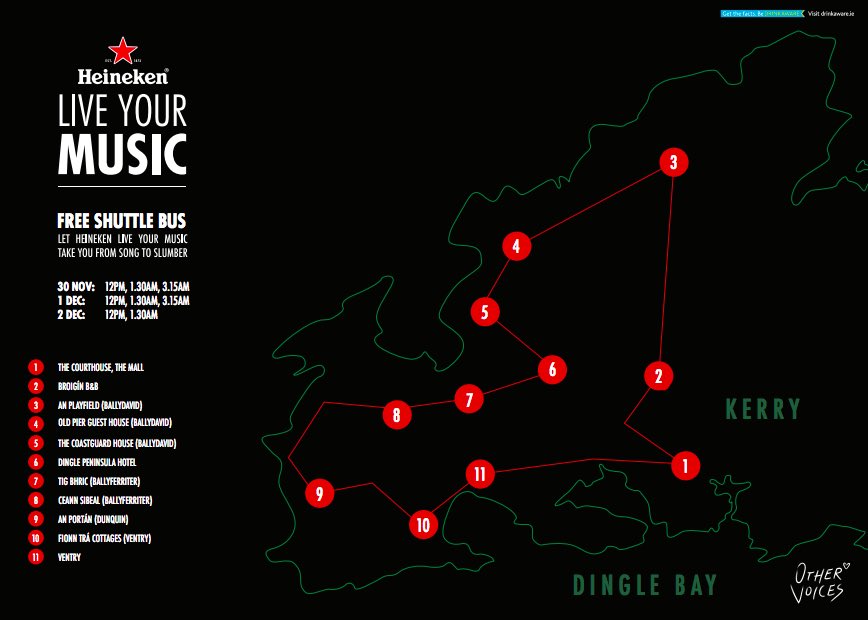 Dates and Times
30th Nov: 12pm, 1.30am, 3.15am
1st Dec: 12pm, 1.30am, 3.15am
2nd Dec: 12pm, 1.30am
Collection and Drop Off Points
1 The Courthouse Pub, The Mall
2 Broigín B&B
3 An Playfield (Ballydavid)
4 Old Pier Guest House (Ballydavid)
5 The Coastguard House (Ballydavid)
6 Dingle Peninsula Hotel
7 Tig Bhric (Ballyferriter)
8 Ceann Sibeal (Ballyferriter)
9 An Portán (Dunquin)
10 Fionn Trá Cottages (Ventry)
11 Ventry
Other Voices 2018 kicks off later today in Dingle. For a full list of who's playing where, as well as information on wristbands, click here.