For those looking to immerse themselves back into the throes of the TV phenomenon, then it's time to take a trip up north (don't go further than the wall, mind).
Winter has arrived in Ireland, and it's actually much closer than you might think. Yes, the one and only and fully permanent 'Game Of Thrones' Studio Tour has opened its doors to fantasy fans from all over the world, and it's situated in Banbridge, County Down.
Created in partnership with Warner Bros. Themed Entertainment, the world's first (and only) 'GOT' Studio Tour is situated where a significant portion of the show's Northern Ireland production was filmed. The interactive experience, which is over 100,000 sq ft, recreates the world that all of us fans have laughed, cried and shouted at over eight seasons. And now is your opportunity to explore the likes of Winterfell, King's Landing, Dragonstone and more than locations that you've previously only seen on screen.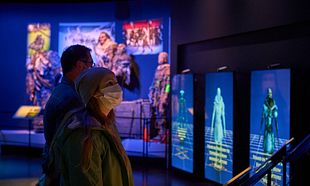 entertainment.ie were lucky enough to be invited along to the experience, which begins with a walkthrough of one of the most perilous of locations - Beyond The Wall. As we slowly journeyed south, we saw an overwhelming amount of props featured from the set, the incredible costumes that the cast members wore, and all of the intricate details that went into creating and crafting the sets of the entire series.
For those who consider themselves to be huge fans of the show, a lot of the details and information points you will probably be well-versed on. Having written countless articles about the series as part of our job, we found that this enabled us to really soak in the atmosphere of the experience, and challenge our memory as we worked out at what point in the series did the prop in front of us appear. For those who are more casual viewers of the series, you'll have plenty more to learn about how it was all brought to life.
The tour typically takes around two hours to complete, depending on how in-depth you really want your experience to be. As you move freely through the exhibit, you'll travel from huge open spaces of displays, to smaller spaces which recreate the exact sets featured in the fantasy series.
If you're a lover of the costumes from 'Game Of Thrones', then prepared to be in your element as countless dresses, tunics, armour and headpieces are on display. There's an armoury section with some of the most memorable weapons (yes, needle is there), and there are also a number of fun interactive elements where you can feel like you're part of the 'GOT' story too.
Plus, don't be alarmed if you are approached by one of the many friendly staff members in each section - they are die-hard fans whose knowledge knows no bounds, you'll have a laugh with them, and some of them were even lucky enough to be extras during the filming of the series!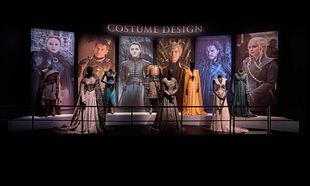 We even had the opportunity to go on a behind-the-scenes look at "The Wall", where all of the cast and crew of the series (so far) have scribbled their signatures. And yes, Kristian Nairn's (Hodor) autograph is the tallest of them all. He, Nathalie Emmanuel (Missandei) and Hempstead Wright (Bran) officially opened the tour to the public in February.
The 'Game Of Thrones' Studio Tour has everything a hardcore, casual or complete newcomer would want in immersing themselves in one of the biggest TV franchises ever made. There are plenty more surprises along the way, but we don't want to spoil the experience too much for fans. There's a lot to pack into your day out, including the gift shop, photo opportunities and a couple of restaurants, just try not to spend seven hours walking around the exhibit like we heard some fans have done...
To mark its first spring season, 'Game Of Thrones' Studio Tour has launched a special Family Bundle ticket that allows children under-15 to experience the world behind the camera in a real-life studio for free! There are also special family meal deals in the Tour's Studio Café this spring. Tickets can be bought online (here).
We're currently running a competition where two lucky readers will get the opportunity to win a special day out at the 'Game Of Thrones' Studio Tour with return transport from Dublin covered, plus a goody bag each. Click here to enter the competition (closes on May 3).