Festival season kicks off good and proper on June 1st when Forbidden Fruit rolls into town for a top-notch weekend of music.
The headliners at this year's festival are Skepta, Mura Masa and Elbow, with the likes of Jon Hopkins, Paul Kalkbrenner, Danny Brown, Earl Sweatshirt, Spiritualized, Fontaines DC and more joining them across three days.
See below for everything you need to know about Forbidden Fruit 2019 - and here for 10 reasons you should make it your business to go.
TICKETS
If you were on the fence about whether to head along to Dublin's Royal Hospital in Kilmainham, you'll be happy to know that a limited number of 3-day weekend tickets (€169) remain on sale. There are also 2-day weekend (Sat & Sun, €129) and 1-day tickets (€69.50) still on sale from usual outlets.
WEATHER
Well, this may have a bearing on the above. The long-range forecast via Accuweather is predicting cloudiness with some potential showers - but it won't be torrential. The good news is that there are several marquees at Forbidden Fruit, so there are places to shelter if they're needed.
OPENING TIMES
Saturday - 2pm
Sunday - 2pm
Monday - 3.30pm
Last Entry to the festival - 21:30
TRANSPORT
There is no car parking (except for those with a mobility impaired badge), so public transport is the best way to get to the festival site. The nearest red line Luas stop is Heuston, and RHK is less than a 10 minute walk from the station.
Bus routes 40, 123, 13, 79/79A and 25/25A all go past Royal Hospital, Kilmainham.
Trains into Heuston Station will leave you 10 minutes from the venue.
A free Bulmers Bus after the show will depart from outside the Main Gate on Military Road (on the left hand side). It will return into town from 9pm and drop off near Bulmers Forbidden Fruit Night Venues.
Taxies should come from James Street and Bow Lane. Military Road from Heuston Station will be closed for traffic.
After the event, taxi ranks will pick up outside Heuston Station and Kilmainham Gaol.
BAG POLICY
No large bags will be permitted to the concert site. Bags A4 size & smaller will be subject to security checks on entry. Those with no bags will be fast tracked into the arena.
STAGE TIMES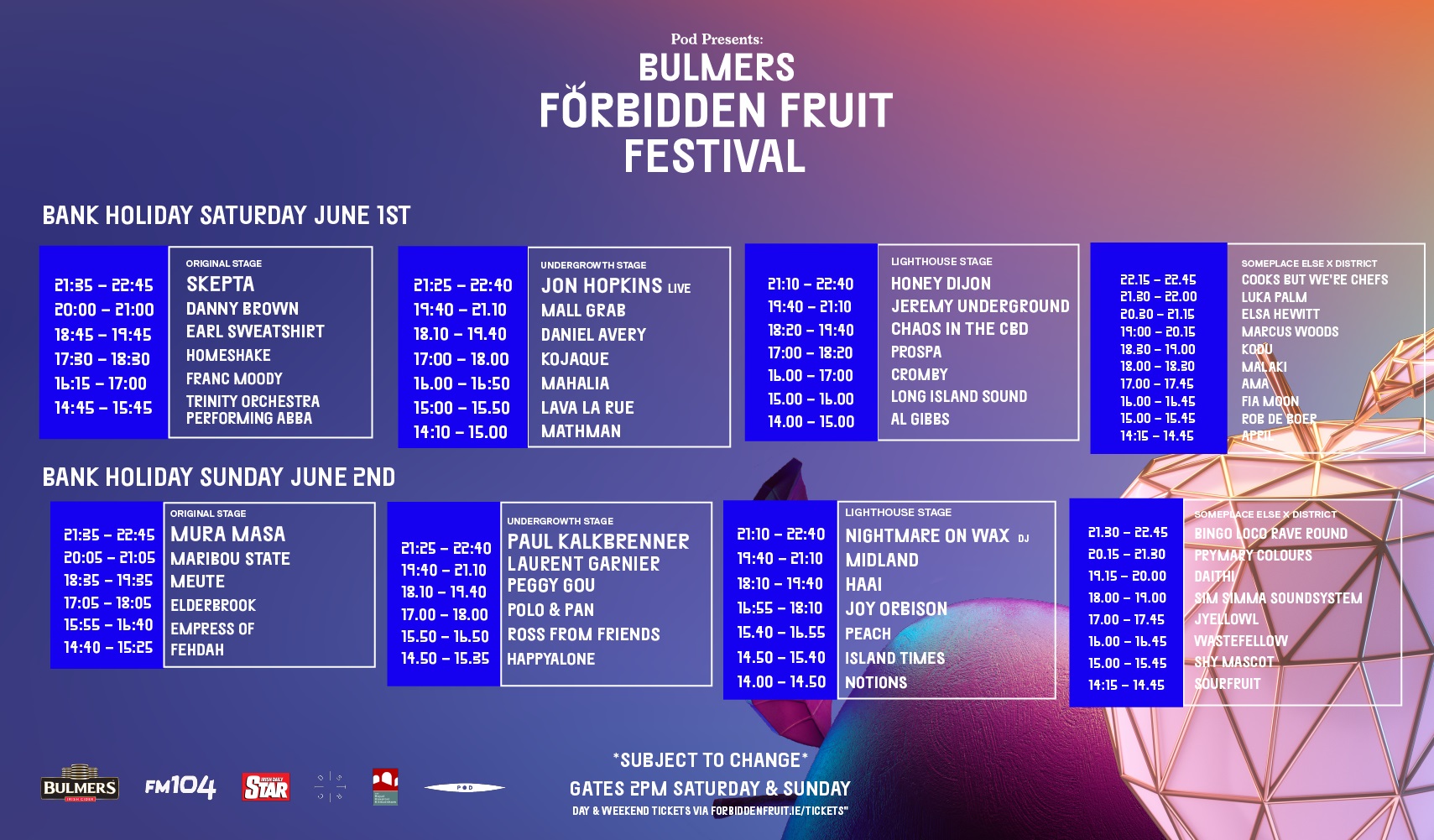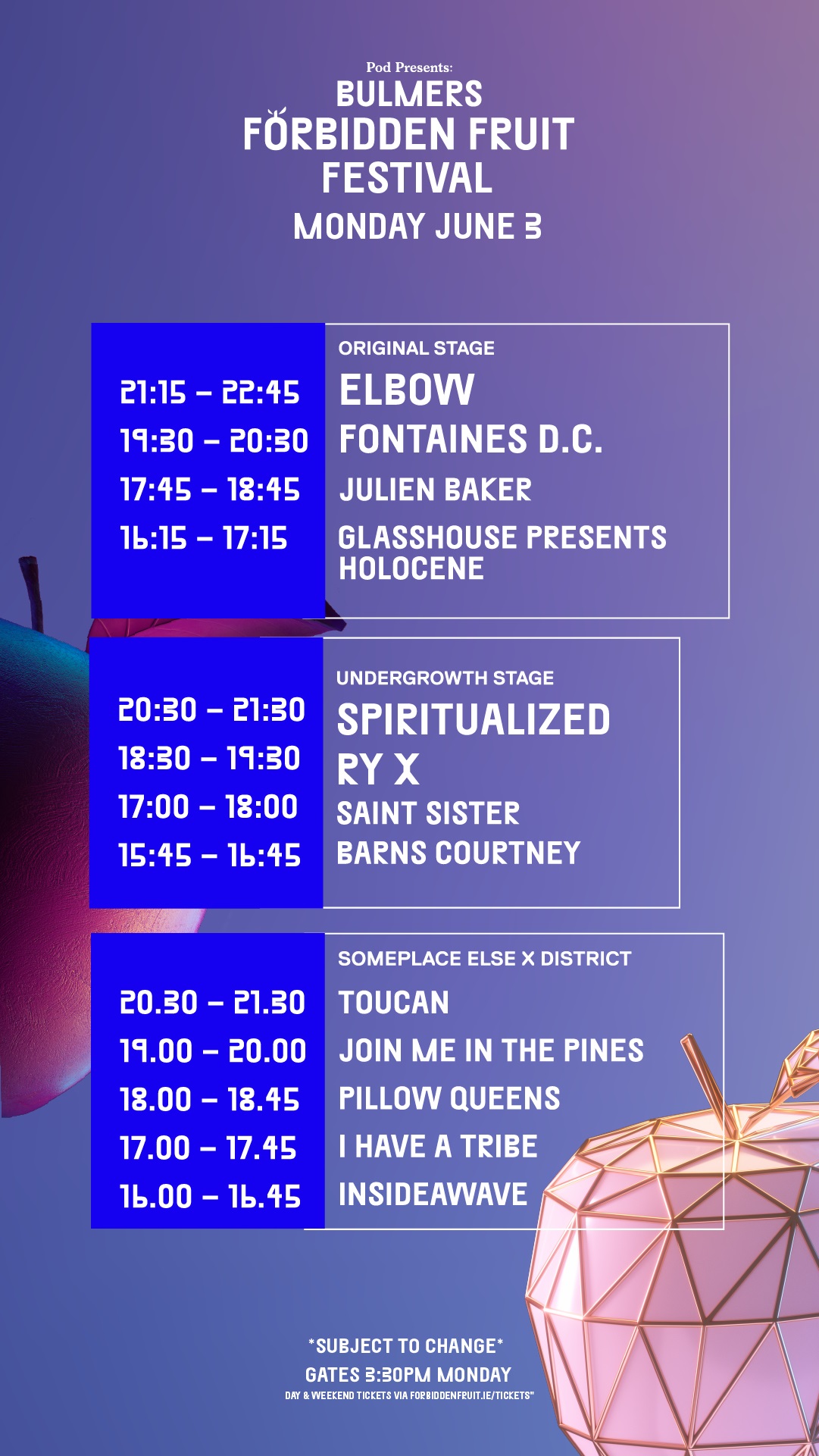 FORBIDDEN FRUIT NIGHT PROGRAMME
After the fun ends at the RHK, the annual Forbidden Fruit Night line-up kicks off on Saturday and Sunday nights at various venues around the city centre for ticket-holders. Please note: you must buy tickets for these shows separately (at the festival). Click here for the programme and more info.
10 ACTS NOT TO MISS
Click here for the ten acts that we heartily recommend at this year's festival.