Running from Thursday the 28th of April until Monday the 2nd of May, the festival offers a tonne of activities both indoor and outdoor that'll suit any age group to be honest.
It's been a long stint without our favourite local festivals happening to inject a bit of craic into our lives — that's why we're so excited that the Drogheda Arts Festival is back with a bang in time for the May Bank Holiday weekend.
They're offering a whole host of deadly activities over the course of the weekend, with a little something for everybody. The Tumble Circus gang are back in town with their show 'Cycle Circus', Autin Dance Theatre will perform their majestic show 'Out Of The Deep Blue Sea', expect a few 'lols' from Bombinate Theatre and their show 'Goodnight Egg' (the name is so intriguing, right?), and get lost in imagination in the children's playground 'Bricí Spraoi!'.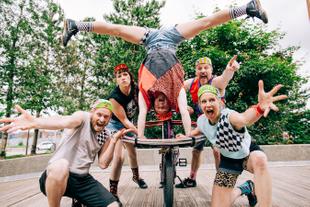 Music fans can enjoy performances from extremely talented Irish musicians including Rónán Ó Snodaigh, Scott McCloud, Ficino Quartet, Nós Nua – Louth Youth Folk Orchestra, and more.
As part of the poetry and spoken word programme, the festival will feature talent from Dagogo Hart, Jan Brierton and Fran Cassidy for an evening of spoken word, hosted by writer and curator Dani Gill on the 28th of April. On the 1st of May, Unique Voices in Poetry will feature poets Dimitra Xidous and Moyra Donaldson.
Street performers ROGU invite you for an evening of magic, mystery, and fire (ooo) on the 1st of May. As for the itinerary of the exhibitions, Helena Gorey's Understory will be showing at the Highlanes Gallery from the 29th of April to the 18th of June. Brian Hegarty's Objects and Oscillations will be showing at Droichead Arts Centre from the 30th of April until the 18th of June.
Get your tickets for the Drogheda Arts Festival now and have something to look forward to this Bank Holiday weekend.