Dalkey Book Festival presented by Zurich is back from the 16th to the 19th of June. As one of Dublin's most beloved treasures we're buzzing for it.
To feature in their packed program of events are some of the sharpest writers and thinkers in the world, including Sally Rooney, Simon Schama, Fiona Hill, Fintan O'Toole, and many more.
Festival director Sian Smyth cannot wait to be back with writers from around the world, "We at Dalkey Book Festival strongly believe that the 21st century began for real in 2022; everything that went before was a sideshow. A hundred years ago, Lenin said that there are decades when nothing happens and weeks where decades happen".
She continues "We are living through such weeks. In 1922, the year Joyce published Ulysses, Ezra Pound declared the modern world had just begun. Could this year, 2022, mark a similar rupture in our world? Join us this June as we explore the future with an exciting programme of events".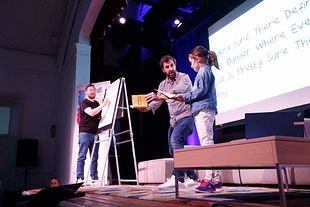 Festival-goers can look forward to a range of events for bookworms, including the Dalkey Literary Awards presented by Zurich, where they'll be announcing 'Novel of the Year'.
The shortlist is as follows: 'April in Spain' by John Banville, 'Beautiful World, Where Are You' by Sally Rooney, 'Nora' by Nuala O'Connor, 'Small Things Like These' by Claire Keegan, and 'White City' by Kevin Power.
The second category for the awards ceremony is 'Emerging Writer' and the novels and writers included on the shortlist are: 'A Crooked Tree' by Una Mannion, 'Bright Burning Things' by Lisa Harding, 'Eat Or We Both Starve' by Victoria Kennefick, 'The End of the World is a Cul de Sac' by Louise Kennedy, and 'Unsettled' by Rosaleen McDonagh.
Other events include some Irish greats like Marian Keyes, BlindBoy, David O'Doherty, and so many more. Trust us, there's a little something for everybody.
Check out the Dalkey Book Festival website for more information.