The Music and Arts Festival taking place between the 24th and 26th of June at Russborough House, Blessington in Wicklow should be great craic.
The main stage will feature some brilliant musicians over the course of the weekend, such as the iconic rock band Feeder, chart-topper James Morrison, and dance hit lover Dec Pierce with Block Rockin Beats.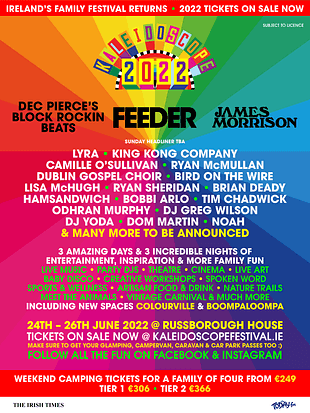 Other great talent across the weekend features Lyra, King Kong Company, Camille O'Sullivan, Ryan McMullan, Dublin Gospel Choir, Bird on the Wire, Lisa McHugh, Ryan Sheridan, Brian Deady, Hamsandwich, Bobbi Arlo, Tim Chadwick, Odhran Murphy, DJ Greg Wilson, DJ Yoda, and Noah with more acts to be announced soon.
But there'll be much more than music to keep everyone entertained over the weekend, with tonnes of activities such as creative workshops, spoken word, a vintage carnival, nature, trails, live art, a cinema, and more.
Get your tickets for Kaleidoscope while stocks last on Ticketmaster for the 3-day event from Friday 24th of June until Sunday 26th of June.