Casillero del Diablo presents Devilish Movie Nights, a bespoke pairing experience that combines the delightful flavours of Casillero del Diablo classic range, cheese and a movie.
The cinemas are back and with it, several exciting events, including this exclusive one which sees entertainment.ie and Casillero del Diablo team up to bring you Devilish Movie Nights.
Devilish Movie Nights pairs wine and cheese with movies as we celebrate some major calendar events of the year.
The first event in the series is to celebrate Mother's Day on Wednesday, March 23rd at 5.00 pm.
It's the perfect way to celebrate your Mum or any important woman in your life to thank them for all that they do.
Treat yourself and your plus one to some cheeky mid-week wine tasting with Sommelier Brigid O'Hora, aka Brideys wine chats, followed by a movie.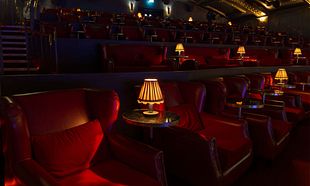 The event takes place in the stunning Stella Rathmines, which is a cinematic landmark that offers a luxury vintage experience with its swish art deco design and balcony seating, hi-end red leather armchairs with footrests, plus an elegant cocktail bar.
After learning about what makes Chilean wine so distinct and tasty, and pairing it with delicious cheese boards, settle into your seats to watch a magical movie classic on the big screen.
The movie that will be screened is currently being kept a well-guarded secret by the Devil himself, but you can be sure that you're in for a wickedly good evening.
Find out how you can win tickets to this glamorous event right here.
This is a strictly over 18s event. Enjoy alcohol responsibly.