McVitie's® has unveiled its new Jaffa Jonuts, a fusion of delicious Jaffa Cakes and doughnuts, and to celebrate, we've teamed up with McVitie's to give away a small Jaffa Jonuts hamper.
A unique twist on the original McVitie's Jaffa Cakes, the Jaffa Jonuts are a combination of two irresistible snacks featuring the much-loved Jaffa Cakes' layers of crackly dark chocolate, light springy sponge and the tangy orange flavoured filling, now in a doughnut-shaped ring.
Whether it's the Morning Rush Snack or the Post Lunch Slump, the Tea & TV Nibble or the Post Zoom Zonk, it's Jaffa O'Clock - time to take a break from the routine with Jaffa Jonuts.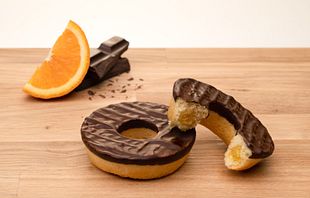 Ashley Birch-Ruffell, Global Senior Brand Manager for McVitie's at pladis UK&I, said: "We love hearing Jaffanatics debate about our Jaffa Cakes, and the launch of our Jaffa Jonuts is sure to spark further conversation! We're excited to offer a new twist to our fans, as the fusion between Jaffa Cakes and doughnuts brings an exciting and original taste experience to those who love a treat."
Available now across all major retailers in recyclable sharing boxes of four (RRP €3.35) or as an individually wrapped ring (RRP €1.35), Jaffa Jonuts make for the perfect snack on the go.
To be in with chance of getting your hands on the small hamper, which includes four boxes of Jaffa Jonuts, simply answer the question at the top of the page!
Competition ends 28th September. The winner will be contacted by email.