As ever, IFI hosts its annual Horrorthon event with a cavalcade of carnage rolling through the cinemas from October 24th to October 28th.
With that in mind, we've picked out 6 movies to grab tickets for, not to mention when they're on and what they're about. To get tickets and more information, go to ifi.ie/horrorthon.
'LITTLE MONSTERS'
Thursday, October 24th at 19.00
Lupita Nyong'o stars in this quirky zombie comedy (yes, kind of like 'Shaun of the Dead') about a kindergarten teacher who has to protect her class from swathes of zombie hordes, using her ukelele and her ingenuity to keep them alive. Josh Gad turns up as a self-centred children's performer, and the whole thing looks as gory and weird as you'd expect.
'SHE NEVER DIED'
Friday, October 25th at 18.50
The companion movie to 2015's cult horror, 'He Never Died', the movie sees Olunike Adeliyi from 'Workin' Moms' as Lacey, an immortal cannibal - yes, really - who embarks on a journey of vengeance after she saves a woman from being murdered on a dark web channel that specialises in snuff movies. It's not for everyone, for sure, but it's definitely going to leave an impact.
'SCREAM, QUEEN!'
Saturday, October 26th at 13.00
Although you wouldn't necessarily realise it, 'A Nightmare On Elm Street 2: Freddy's Revenge' is part of the LGBT canon, what with the movie's central character being played by an openly gay actor and the homoerotic undertones of the movie itself playing a major part in it. The documentary 'Scream, Queen!' examines the movie's role, with a little help from Mark Patton - horror's first male scream queen.
'COLOUR OUT OF SPACE'
Saturday, October 26th at 19.00
Nicolas Cage channels the craziness of 'Mandy' in this adaptation of HP Lovecraft's celebrated short-story, 'Colour Out Of Space', directed by Richard Stanley of 'The Island of Dr. Moreau' fame. A family arrives in New England, desperate to escape the hustle and bustle of the modern world, but finds themselves caught up in something beyond their experience when a comet lands in their front yard and begins to change everything around them - including them.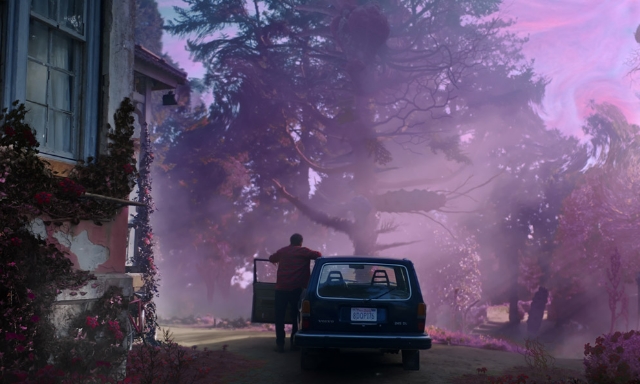 'A NIGHT OF HORROR: NIGHTMARE RADIO'
Sunday, October 27th at 22.50
Ten - that's right, TEN - directors take on this anthology movie that blends itself together when a radio DJ begins to tell horror stories to his listeners, after receiving a call from a terrified child. Each story takes a completely different approach, but all of it spins together to create something truly weird and unsettling.
THE SURPRISE FILM
Sunday, October 27th at 19.00
As always, the Horrorthon features a surprise movie which remains a mystery right up until the lights go down and the projector spins up. Previous surprise films have included Robert Eggers 'The Witch', the remake of 'The Town That Dreaded Sundown', and 'Better Watch Out'. It's anybody's guess what this year's surprise film will be. Our guess? Robert Pattinson and Willem Dafoe's 'The Lighthouse'.