The 10 best TV shows of 2021
G

iven that 2020 saw productions all across the world get shut down for weeks or months at a time, it's an incredible feat then that 2021 delivered a huge selection of bankable content for viewers.

While there were the usual assortments of hit-and-misses this year (BBC's 'Line Of Duty' season six, we're looking at you), and a lot of complete and utter travesties ('The Irregulars' on Netflix was a certified turkey), there was also a feast of exceptional content that have carved out a home in our heads as a positive TV experience.

It would be remiss of us if we didn't give a shoutout to the titles that narrowly missed out on a stop in our top ten: 'Shadow & Bone', 'WandaVision', 'Maid', 'Reservation Dogs', 'The Morning Show' season two, 'Loki', 'The Wheel Of Time', and 'This Way Up' season two.

With all that in mind, here are our top 10 TV shows of 2021.
10

'Them' (Amazon Prime)

We're beginning our list of TV shows from 2021 just the way that the year began - with a little horror. Amazon Prime's anthology series 'Them' follows an African-American family who moves into a predominantly white neighbourhood in LA during the 1950s; unfortunately, their settling into this picket-fenced neighbourhood is anything but smooth. Showcasing the very true horrors that black people faced during this time period, as well as that added element of supernatural, resulted in a petrifying viewing experience for all who dared.


9

'Squid Game' (Netflix)

"Would you do it?" - it's a question we've probably all asked ourselves while binging on the most-watched Netflix series of all time. And so, apart from that divisive season finale, all that came before it merited 'Squid Game' as one of the biggest talking points of the year that was. While some touted the South Korean series as barbaric, unrealistic and utterly messed up - it's important to remember that yes, it is all of these statements and more; but clearly, that didn't stop millions of people around the world from tuning in to see what all of the fuss was about.


8

'Ted Lasso' Season Two (Apple TV+)

Admittedly, we had our reservations about 'Ted Lasso' when we first heard about it in 2020, not because of the talent or the concept, but because of the subject matter: Football. However, all of our doubts quickly faded away when we realised that there was much more substance in here than just a sport's comedy. Season two manages to flesh out the workplace characters much more than before, delivering a heartwarming - yet hilarious - sophomore series.
7

'Succession' Season Three (Sky/NOW)

Gaining quite a following since its initial inception, 'Succession' season three was undoubtedly one of the most eagerly anticipated TV shows of 2021. Picking up immediately after that cliffhanger fall-out last time we were with the Roy family, series creator Jesse Armstrong managed to string together another fiery season revolving around who will take over Waystar RoyCo and all of the below the belt tit-for-tat that goes along with it. Will we ever see who emerges as the successor for Logan Roy? We're enjoying all of the familial underminings far too much to worry about that for now.
6

'Sex Education' Season Three (Netflix)

Basically a live-action, UK version of Netflix's animated series 'Big Mouth', the third season managed to take the teenage dramedy to dizzying levels of emotional beats and outlandish happenings. Season three saw our teenage characters embark on a stinker of a school trip to France before they bloomed in solidarity against a new villainous school principal. If nothing else, 'Sex Education' is just a hell of a lot of fun to watch, and we want more of it, please.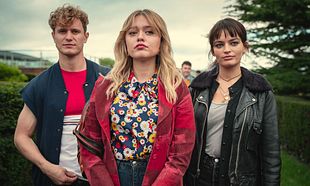 5

'Only Murders In The Building' (Disney+)

Steve Martin and Martin Short are just a match made in heaven, wouldn't you say? Add in a dash of youth with Selena Gomez, a sprinkling of mystery, and a heavy dose of comedic timing, and 'Only Murders In The Building' turned into one of the most intriguing whodunnits of the year. With a second season in the bag, we can't wait to see what awaits these three crime podcast-loving sleuths (and what electrifying cameo appearances we'll get too).
4

'The Underground Railroad' (Amazon Prime)

Getting Oscar-winning director Barry Jenkins ('Moonlight', 'If Beale Street Could Talk') on board as the series creator was the first stroke of genius with 'The Underground Railroad'; the other aspects of genius is everything else that followed. A harrowing yet incredibly touching miniseries, we are graced with its stylish nature and powerful performances from the outset. A title that might have slipped under your radar this year, be sure not to miss one of the most powerful TV series of 2021.


3

'The White Lotus' (Sky/NOW)

Our final comedic entry in our list of the best TV shows of 2021 is this surprise HBO hit, 'The White Lotus'. Bursting full of meme-able moments (thank you, Jennifer Coolidge), the series is the epitome of what happens when you unleash a bunch of stuck-up white snobs onto a luxurious beach resort in Hawaii. Featuring the worst group of people to appear on our TV screens this year, 'The White Lotus' is a social commentary on the "complexities" of greedy people and the horrific repercussions of those who manage to get in their way.


2

'It's A Sin' (Channel 4)

It's not very often that a series stops viewers in their tracks, serving up a timeless recap in historically-accurate happenings; 'It's A Sin' is one such TV series. Based around the HIV and AIDS epidemic of the '80s and early '90s, the Russell T. Davies' creation documents all of the highs and the devastating lows when it came to how gay men were perceived during this period of time. Still relevant in today's divisive world, it saw a diverse cast of actors lead one of the most poignant series of the year.


1

'Mare Of Easttown' (Sky/NOW)

She did it. Kate Winslet made it to the top of our best TV shows of 2021 list. Someone send her another award, please. Winning a leading actress Emmy for her role as Mare Sheehan, Winslet managed to encapsulate an ageing woman who was a probing mother, doting grandmother, argumentative daughter, concerned friend and an overly-zealous, vape-inhaling police detective of the people. A series that had us hooked from the very beginning, if you haven't seen it yet - get watching 'Mare of Easttown'.