If you haven't binge-watched season 2 of Netflix's 'You' yet then away with you, as here lie spoilers.
(If you have, then you should check out our 'You' season 2 review here.)
The season was jam-packed with twists and turns, but none so big as the discovery that Love (Victoria Pedretti) was just as cray cray as Joe and has her own body count she feels she can justify to herself. You would think Joe would have been delighted with this commonality between them but he actually seemed fairly disgusted to be shown exactly who he was, at least Candace got what she wanted on that front.
It was touch and go for the pair initially but Love's pregnancy and the death of her twin Forty sealed their relationship and the last we see of the couple is them beginning their life in suburbia. Of course, they are only there five minutes before Joe spots his next infatuation.
The whole thing was a fantastic twist in our opinion, that now leaves it wide open for what this murdering pair will get up to together in the inevitable season 3.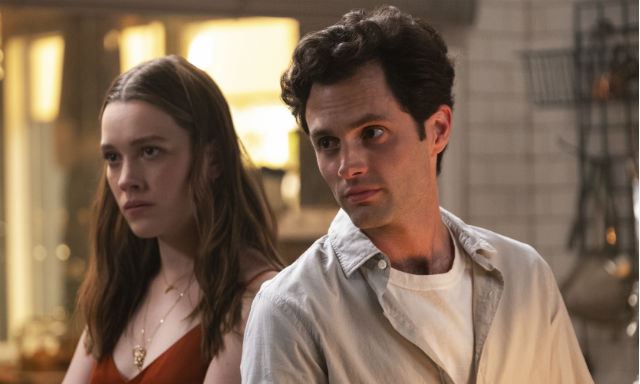 If you were shocked at how things panned out, then you weren't the only one. Pedretti has also revealed it was not how she expected things to go for her character.
Speaking to Entertainment Weekly, Pedretti said, "I would hear things back and forth about who killed whom.
"But once I read that, it was not how I saw it panning out, especially the pregnancy and the way that plays into motivating her killing is really shocking.
"Even though it's her name, she has a warped sense of what love is."
Talking about Joe's reaction to their shared interest, Pedretti added, "It really disrupts their relationship. I mean, clearly, with the 'Hey, you' at the end. I hated watching that. I felt so sorry for her. After all she goes through, nothing is ever enough, but that's him. He is never satisfied."
Badgley was also surprised at how things worked out for Joe. "When I found out where it was headed, I was kind of crestfallen because, just selfishly, I wanted there to be a more positive resolution," he said.
"But just like Beck dying in the first season, I realised that this was the most accurate, the most reflective of reality, the most responsible to be like, 'No, Joe doesn't get to have that'."
"Joe is not actually looking for true love. He's not actually a person who just needs somebody who loves him," the star continued.
"He's a murderer! He's a sociopath. He's abusive. He's delusional. And he's self-obsessed. You can't fool yourself into thinking that he just needs somebody who's right for him. Nobody's right for him!"
"So actually, the ending's perfect. This is the way it has to be because he has an irrefutable problem and if it was just like, 'They were made for each other, all he needed to find was somebody who kills people too', that's not justice," he said.
Seasons one and two of 'You' are currently airing on Netflix.