Tony (Ricky Gervais) struggles with everyday life after losing his wife, Lisa (Kerry Godliman), to cancer. After contemplating suicide, he decides the best way to cope is to not care about anything anymore and adopt a gruff, coarse persona. He gloomily goes about his work at a local newpaper where his boss is his brother-in-law (Tom Basden). His routine also consists of visiting his father (David Bradley), seeing a psychiatrist (Paul Kaye) and walking his loyal dog.
Ricky Gervais' latest series would seem from the outset to be more melancholic than his previous works. However, one must remember that his previous shows such as 'The Office', 'Extras' and 'Derek' had their sombre moments too. Nonetheless, if you've been following the writing career of Gervais, 'After Life' marks a distinct, developmental shift in the comedian's work. Regarding his performance, it's fascinating to see Gervais transform into a character with lower spirits than what we're used to. Then again, those who love Gervais' smart, no-nonsense style of dialogue won't be disappointed either.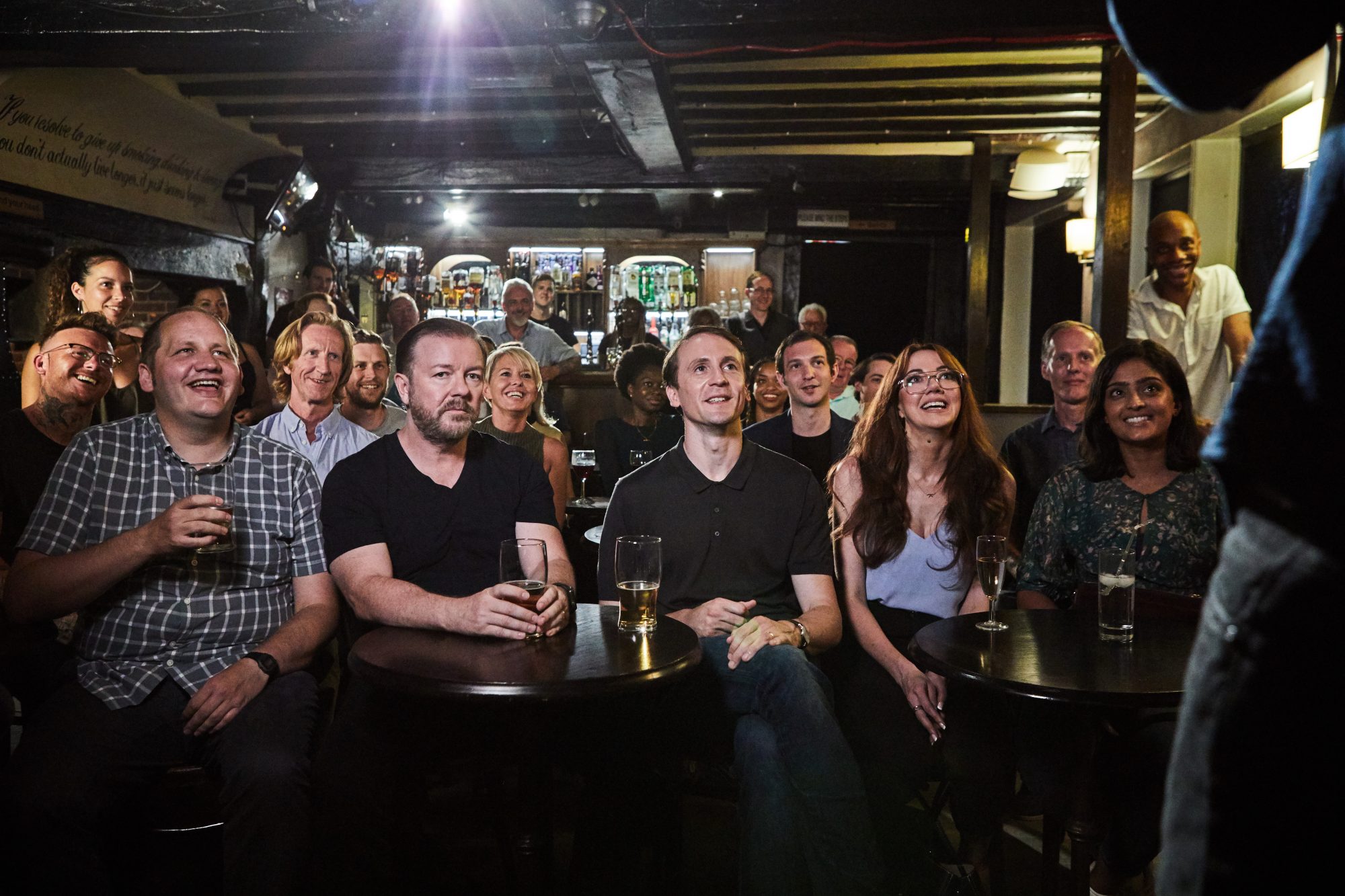 'After Life' alters between comedy and tragedy in a really effective way. For example, a scene in which an old man talks about getting the same birthday cards switches from funny and awkward to tragic in a matter of seconds. The show is refreshingly frank and deeply compelling. Tony converses with characters from all walks of life including a drug addict, sex worker, nurse and fellow widow. It's a pretty uneventful show, with scenes in which Tony just walks around the park or heads to the beach. But at the same time, it's never dull and never drags, as the mundanity always turns into something unexpected.
There is thought and a sense of humour invested into every encounter and every conversation; all of a sudden, something will be said and the tone will shift, becoming touching or heart-breaking. The show really is a testament to Gervais' strength as a writer. As with his previous series, it consists of six half-hour long episodes. Thus you know that every character has purpose and every line of dialogue has been adjusted to fit just right.

'After Life' also has a great ensemble. Of Gervais' previous co-stars there's the warm Kerry Godliman from 'Derek' and chirpy Ashley Jensen from 'Extras'. Other standouts include Tom Basden, Tony Way, Diane Morgan, Tim Plester, Penelope Wilton and Roisin Conaty. Similarly to 'The Office', 'After Life' revolves around socially awkward, sad, lonely people, and those who bring a ray of light into their lives. Finding connections and relationships turns out to not be that hard, even if you are an arsehole. There's always some commonality, maybe something you both find funny. You may even share the same pain.
There's a point when 'After Life' is nearing its conclusion when it takes a seriously dark turn. After that, the finale is just a tad weakened by the fact that it's hard to believe in the 180 degree change in the lead. It's a shame because if that weren't the case, it'd be easy to call 'After Life' Gervais' best show yet. Still, it's definitely unmissable on the basis of its humourous, heartfelt insight into the human condition.