After a brief hiatus, 'Riverdale' is back. It returns with the flashback episode that has been teased for some time now. 'The Midnight Club' is undoubtedly the strongest episode of the season so far.
In a neat twist, the kids play their parent equivalents. Thus Betty (Lili Reinhart) plays her mom Alice (Mädchen Amick), and Veronica (Camila Mendes) plays Hermione. Jughead (Cole Sprouse) plays F.P., Archie (K.J. Apa) plays his dad Fred, and Cheryl (Madelaine Petsch) plays mom Penelope. Set in the early 90s but 80s in feel (there's even a very 'Saved By the Bell' feel to the 'Riverdale' title), the episode has great craic altogether with its retro mode.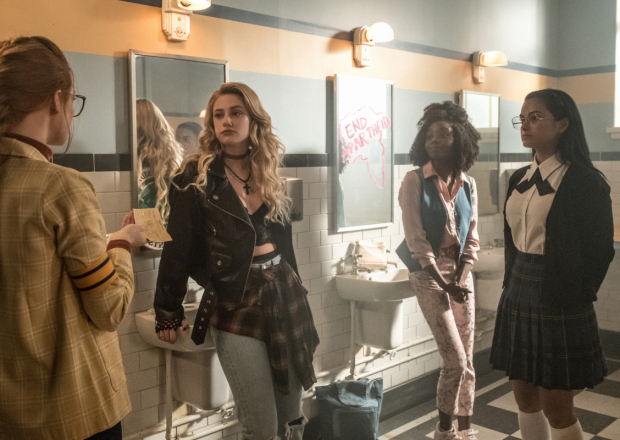 Opening with Alice discovering she's pregnant with Betty's older brother, she quickly gets into a cat fight with Penelope. Both land in detention. Hermione, F.P., Fred and Sierra McCoy (played by Josie (Ashleigh Murray)) have wind up there as well. It quickly transpires that we have a 'The Breakfast Club' parody on our hands. Not only are the students from a variety of cliques, they also have Principal Featherhead – ONLY PLAYED BY FREAKIN' ANTHONY MICHAEL HALL! (also, as an aside, lol, that name) – chewing them out. They even name themselves 'The Midnight Club'.
We learn more about Hermione, Alice and Penelope's family backgrounds. We see how far back the relationships, including romantic ones, of the grown-up generation of 'Riverdale' go. We also see the depths and disconnects of their connections to Riverdale itself.

As members of the Midnight Club, they sneak into school to play 'Griffins and Gargoyles' at night. They get so immersed that they even wear costumes. We observe how the game makes people feel special and takes them away from who they are, which is how it becomes so addictive. Others join and drugs, in the form of fizzle rocks, are introduced.
Then on Ascension Night, which kicks off with an impromptu concert (well we know the cast of 'Riverdale' can perform, so why not give them every opportunity to?), Featherhead dies. The kids turn on one another, go their separate ways, and commence on the paths we know they ended up on. It's looking likely that the Gargoyle King is someone from this generation, as they're all still in Riverdale today. Not only do we end on that cliffhanger, but after Alice has finished recalling her story, we return to Betty and the gang. She finds her friends playing 'Griffins and Gargoyles'. Jughead tells her he is on level 3, and will soon ascend and meet the Gargoyle king. *squeals with anticipation*
Read our review for episode 3 'As Above So Below' here
Read our review for episode 2 'Fortune and Men's Eyes' here
Read our review for episode 1 'Labor Day' here