Entertainment.ie's TV Editor Fiona Flynn picks the new TV shows, movies and documentaries arriving to Netflix this month that you won't want to miss.
ORIGINAL SERIES
Nightflyers (1/2/2019)
The new TV series from the mind of 'Game of Thrones' writer George R.R Martin. With humankind's future at stake, a group of scientists and a powerful telepath venture into the void aboard a spaceship full of secrets. Irish actors Brían F. O'Byrne and Eoin Macken star alongside Gretchen Mol ('Boardwalk Empire'), David Ajala ('Fast & Furious 6'), and Sam Strike ('EastEnders').
Russian Doll (1/2/2019)
Russian Doll follows a young woman named Nadia (Natasha Lyonne) on her journey as the guest of honor at a seemingly inescapable party one night in New York City.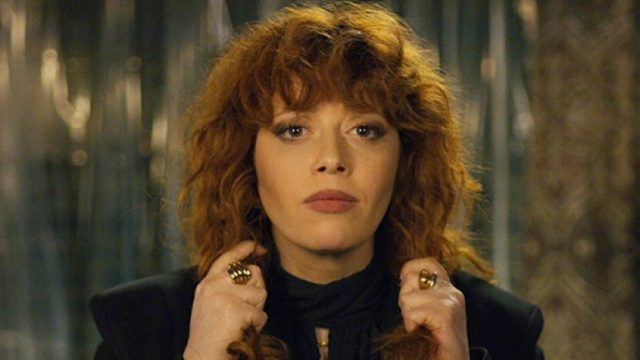 Dirty John (14/2/2019)
True crime anthology series - This first season tells the story of how a romance with the charismatic John Meehan spiraled into secrets, denial, manipulation and, ultimately, survival – with horrific consequences for an entire family.
Dating Around (14/2/2019)
Every episode, one single goes on five first dates filled with flirty banter, awkward exchanges and moments of true connection. Who will get a second date? Netflix's first original dating show takes an honest and compelling look at the real world of dating.
Workin' Moms (22/2/2019)
This is an original comedy series created by and starring Catherine Reitman that tests the modern ideal that women really can have it all.
Van Helsing: Season 3 (25/2/2019)
Vanessa and Scarlet embark on a search for the four Elders whose totems can raise the Dark One, while the new threat of vampire daywalkers grows.
The Umbrella Academy (15/2/2019)
Reunited by their father's death, estranged siblings with extraordinary powers uncover shocking family secrets -- and a looming threat to humanity. The show is based on the popular Eisner award-winning comics and graphic novels created and written by Gerard Way. It stars Ellen Page and Irish actor Robert Sheehan ('Love/Hate').
WEEKLY SERIES
Mysterious events in different regions of the galaxy launch Discovery on a new mission with a temporary captain: Christopher Pike of the Enterprise.
NETFLIX FILM
Velvet Buzzsaw (1/2/2019)
Velvet Buzzsaw is a satirical thriller set in the contemporary art world scene of Los Angeles where big money artists and mega-collectors pay a high price when art collides with commerce. Stars Jake Gyllenhaal, Rene Russo, Toni Collette,
High Flying Bird (8/2/2019)
In the midst of a pro basketball lockout, sports agent Ray Burke (André Holland) finds himself caught in the face-off between the league and the players. His career is on the line, but Ray is playing for higher stakes. With only 72 hours to pull off a daring plan, he outmaneuvers all the power-players as he uncovers a loophole that could change the game forever. The outcome raises questions of who owns the game – and who ought to. Directed by Academy Award winner Steven Soderbergh (Traffic) from a script by Academy Award winner Tarell Alvin McCraney (Moonlight), 'High Flying Bird' features an acclaimed ensemble cast that includes Zazie Beetz, Melvin Gregg, Sonja Sohn, Zachary Quinto, Kyle MacLachlan and Bill Duke, plus appearances from NBA athletes Reggie Jackson, Karl-Anthony Towns and Donovan Mitchell.
Paddleton (22/2/2019)
An unlikely bromance between two misfit neighbors becomes an unexpectedly emotional journey when the younger man is diagnosed with terminal cancer. Stars Mark Duplass and Ray Romano.
The Breaker Upperers (15/2/2019)
Two women run a business breaking up couples for cash but when one develops a conscience their friendship unravels.
Isn't It Romantic (28/2/2019)
A cynical young woman (Rebel Wilson) that doesn't believe in love (and hates romantic comedies) wakes up one day to discover that her life has completely changed and she is now somehow trapped inside a romantic comedy.
NETFLIX ORIGINAL COMEDY SPECIALS
Ray Romano: Right Here, Around the Corner (5/2/2019)
23 years after his last stand-up special, comedian, screenwriter, and Emmy Award-winning actor Ray Romano debuts his first Netflix comedy special, Ray Romano: Right Here, Around the Corner. Performing two sets on the same night - one at Manhattan's Comedy Cellar and the second at the Village Underground, literally around the corner - Romano advises on choosing friends, surviving marriage, and knowing the difference between being old and not being young. The comedy special will launch globally on Netflix February 5th.
Ken Jeong: You Complete Me, Ho (14/2/2019)
Comedian, actor and former physician Ken Jeong returns to his stand-up roots for his first-ever Netflix comedy special, Ken Jeong: You Complete Me, Ho. Filmed at the Ice House Comedy Club in Pasadena, California, where Jeong first got his start in comedy, You Complete Me, Ho reflects on how Jeong went from being a doctor to a comedy superstar and opens up about how his wife's courageous battle with breast cancer led to him starring in one of the biggest comedy franchises of all time, The Hangover. The special is directed and executive produced by Jon M. Chu, who also directed Jeong in the groundbreaking box office phenomenon Crazy Rich Asians. Den of Thieves produced the special with Executive Producers Jesse Ignjatovic, Evan Prager, Jared Morell, Jordan Barrow, and Brett Carducci.
NETFLIX ORIGINAL DOCUMENTARIES
ReMastered: The Two Killings of Sam Cooke (8/2/2019)
REMASTERED: A long form documentary series of high profile, in-depth stories about music's impact on society, as told by critically acclaimed directors, with each episode revealing surprising insight beyond the expected or commonly known. SAM COOKE: Sam Cooke was the most influential black musician of the Civil Rights Movement and advocated for the rights of black musicians, frustrating the white establishment. An investigation into the circumstances and controversy surrounding his shooting death include theories that he had been robbed and "trick-rolled' by a woman, later revealed to be a prostitute. But many believe in a larger societal set up; namely that he was targeted by music industry moguls with links to the mob who all wanted him dead for emerging as a totem for black musicians' rights.
Larry Charles' Dangerous World of Comedy (15/2/2019)
Legendary comedy writer and director Larry Charles travels the world in search of humor in the most unusual, unexpected and dangerous places.
Chef's Table: Volume 6 (22/2/2019)
A renowned Italian butcher, an Indian chef in London and two stars of Southern U.S. cuisine share their culinary journeys.