Created and executive produced by Little Marvin, along with executive producers Lena Waithe, Miri Yoon and Roy Lee, 'Them' is a limited anthology series that explores terror in America.
The first season places us in 1950s America, when the Emory family moves from North Carolina to an all-white Los Angeles neighbourhood during a period known as The Great Migration. The family's idyllic home becomes ground zero where malevolent forces, next-door and otherworldly, threaten to taunt, ravage and destroy them.
Ahead of the series releasing on Amazon Prime this weekend, we were able to catch up with the cast of Ashley Thomas, Deborah Ayorinde, Alison Pill, Shahadi Wright Joseph, Anika Noni Rose, and series creator and writer Little Marvin to find out more about the 10-episode series.
So, when did the idea for the series pop into Little Marvin's head? The first-time writer and executive producer told us: "Many, many years of rage! [Laughs] That's the short answer. This particular story came about for me a few years ago where I was waking up every morning and doing what we all do and flicking through social media. And I'm seeing terrible video after terrible video of black folks being terrorised, harassed, or followed in some way. Even being threatened with the police.
"It got me thinking about the history of that kind of gaze in this country. And from my own experience with this gaze, and the terror of that. So exploring America through the lens of terror was the idea from the very beginning."
Deborah Ayorinde, who plays the matriarch of the Emory family, Lucky, says that she drew on her experiences of moving to America from the UK as a source of inspiration for her role as an "other" in 'Them'. She told us: "When I moved to America when I was young, I felt so different. I felt so out of place, a fish out of water. And I became very familiar with just being an outsider. I've embraced it now, but during the process, I reminded myself of how it felt to not fit in."
After her role in 'Them', Deborah admitted: "I had to purge myself from the experience because it was so terrifying. The supernatural entities weren't as horrifying as the actual people doing these terrible things. It could have been a drama, but it was much more apporpiate for it to be a horror."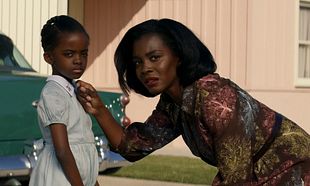 British actor Ashley Thomas plays her on-screen husband, Henry. He told us: "I was scared even before I started! [Deborah laughs] I was scared because, I know that it's a horror and it has supernatural elements, but there was a weight to this story that we were telling.
"I wanted to make sure that I could do the character and do this piece justice. That was where my fear lied in this. They were living a natural horror, and for me to really play as Henry was to not play the horror elements, but to keep him grounded in reality."
Alison Pill, who plays curtain-twitching next door neighbour Betty in 'Them', says that she was able to "manipulate her own white womanhood" for the role. One of the characters who fears her new neighbours above anyone else, Alison told us: "It was a lot [laughs]. No pressure, I just have to take on hundreds of years of the way white women have perpetuated this cycle."
Alison is no stranger to anthology horror series and previously appeared in 'American Horror Story: Coven'. However, she said she experienced a form of "flu exorcism" after finishing up shooting 'Them', due to the nature of her character. She informed us about the difficulty of playing such a villainous role while young cast members of Shahadi Wright Joseph and Melody Hurd were in the scene: "For me to be playing this person and to be faced with Melody's face while I'm saying these things was... F**king horrible. I would go over and see them between takes and the wonderful dog and check in with them."
Finally, on the future of the 'Them' franchise, creator Little Marvin gave us a clue as to what we can expect from future instalments, teasing that it will "not always" be focussed on African-American people: "Every season will be a different time period, and a different place. The one thing that will remain the same in each season, is the folks who, historically speaking, have been marginalised and have not been centred on in these kinds of stories. They will find themselves in the centre of their own story of American terror.
"The people will change, the place will change, the time will change, but that one feature will remain the same."
'Them' will begin streaming on Amazon Prime from April 9. Read our review here.