We have a confirmed release date for Netflix's most successful superhero offering.
It's nearly the summer (or is it already?) and so Netflix is ramping up anticipation for the return of one of their biggest tentpole franchises. 'The Umbrella Academy' season three now has a June release date attached to it, and there's a rake of new images to go along with the news.
Elliot Page, Robert Sheehan, Tom Hopper, Aiden Gallagher, Emmy Raver-Lampman and David Castañeda are back as the six returning Hargreeves heroes tasked with saving the world on two previous occasions, but this time around things are going to be a little bit different.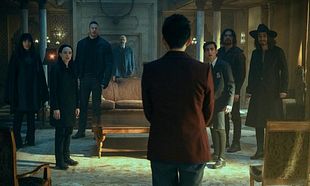 The family's deceased brother Ben (played by Justin H. Min) will play a pivotal role in this third outing, being bumped up from a recurring cast member to the main cast. This time around he'll lead the rival family The Sparrow Academy, who are this alternative reality's version of The Umbrella Academy. The ending of season two saw the superpowered siblings jump back into what they thought was the present day, and instead land in an alternate reality present-day.
Joining the cast for this season's new troupe of siblings are Justin Cornwell as Marcus, Britne Oldford as Fei, Jake Epstein as Alphonso, Genesis Rodriguez as Sloane, and Cazzie David as Jayme. As you can see in the pictures here and on the series' official Instagram page this family doesn't mess around, all kitted out in matching red and black leather outfits and full of serious eye contact. Plus, there's also Christopher the "existential dread-inducing psykronium cube" who's part of the crew.
Ritu Arya, who played Lila in season two, will also return for this next outing, the character finally breaking away from the clutches of The Handler (Kate Walsh). Colm Feore is back once again as Sir Reginald Hargreeves, the mysterious "father" of his superhero protégés, so hopefully, we'll get more answers from this alternative version of the character about his backstory.
Finally, Javon Walton, better known as Ash in HBO's 'Euphoria', joins the cast as an unknown teen. With season three expected to deviate from the comic books on which the series is based, it seems that Walton will play a brand new character created for the show.
In Season 3, after putting a stop to 1963's doomsday, the Umbrella Academy return home to the present, convinced they prevented the initial apocalypse and fixed this godforsaken timeline once and for all. But after a brief moment of celebration, they realize things aren't exactly (okay, not at all) how they left them. Enter the Sparrow Academy. Smart, stylish, and about as warm as a sea of icebergs, the Sparrows immediately clash with the Umbrellas in a violent face-off that turns out to be the least of everyone's concerns. Navigating challenges, losses, and surprises of their own – and dealing with an unidentified destructive entity wreaking havoc in the Universe (something they may have caused) — now all they need to do is convince Dad's new and possibly better family to help them put right what their arrival made wrong. Will they find a way back to their pre-apocalyptic lives? Or is this new world about to reveal more than just a hiccup in the timeline?
'The Umbrella Academy' season three begins on Netflix on Wednesday, June 22.