Our next journey into space comes courtesy of George Clooney.
Directed by and starring George Clooney, Netflix has released our first look at their latest sci-fi adventure in 'The Midnight Sky' trailer below.
The movie will see Clooney play Augustine, whose mission is to stop a team of returning astronauts from landing back on Earth. Apparently, there's been a worldwide catastrophe, and they will be safer out in space. Sounds like Netflix might have delayed the release of this movie, all things this year considered.
'The Midnight Sky' is Clooney's latest space drama movie - following 'Gravity' in 2013. The movie is based on the acclaimed fictional book 'Good Morning, Midnight' by Lily Brooks-Dalton.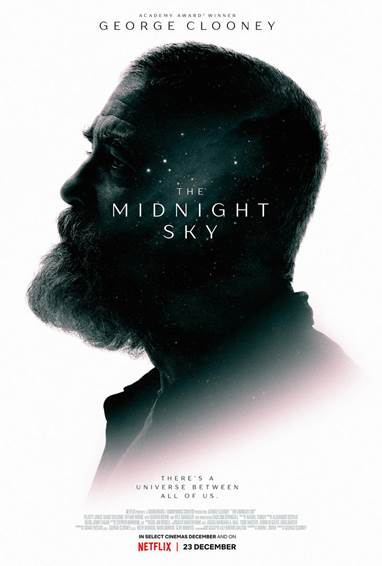 Alongside Clooney, the space drama will also star Felicity Jones ('Rogue One', 'The Theory of Everything'), with David Oyelowo ('Selma'), Kyle Chandler ('Super 8'), Demián Bichir ('The Hateful Eight') and Tiffany Boone (Amazon Prime's 'Hunters').
Here's the official synopsis by Netflix:
Our humanity always endures. This post-apocalyptic tale follows Augustine (Clooney), a lonely scientist in the Arctic, as he races to stop Sully (Felicity Jones) and her fellow astronauts from returning home to Earth, where a mysterious global catastrophe has taken place. 
Here's 'The Midnight Sky' trailer for you.
'The Midnight Sky' arrives on Netflix on December 23.