The official season three trailer has been a long time coming, but it's finally been unleashed just two and a half weeks out from when next instalment kicks off.
The new trailer for 'The Boys' gives us a better look at Soldier Boy (Jensen Ackles), and it also teases a - if you can believe it - more sadistically unhinged Homelander (Antony Starr) than we've seen thus far in the action series.
Returning to Prime Video on June 3 with a triple-episode premiere, the Emmy-nominated series developed by Eric Kripke takes a look at what life is like for superheroes when they become celebrities. Everyone handles fame differently, and as we've seen in the past two seasons from the leader of Vought's manufactured superheroes The Seven, Homelander, he tends to meddle with his lazer-beamed eyes all too often.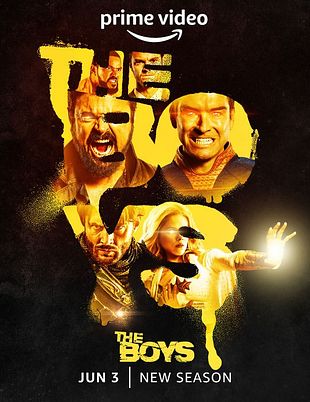 Meanwhile, we've got The Boys, lead by Billy Butcher (Karl Urban), who are intent on stopping the corrupt superheroes by any means possible. In season three, however, it doesn't look like the vigilante group is living in harmony, with Billy and Hughie (Jack Quaid) at odds with each other.
In the trailer below, we also catch a look at Giancarlo Esposito as the corrupt Vought boardman Stan Edgar, Erin Moriarty's Starlight, Dominique McElligott's Queen Maeve, Laz Alonso as Mother's Milk and Chace Crawford as The Deep. We also get a better look at what we can expect from Jensen Ackles as Solider Boy.
Here's 'The Boys' season three trailer.
The official synopsis for the upcoming season is as follows: It's been a year of calm. Homelander's subdued. Butcher works for the government, supervised by Hughie of all people. But both men itch to turn this peace and quiet into blood and bone. So when The Boys learn of a mysterious Anti-Supe weapon, it sends them crashing into the Seven, starting a war, and chasing the legend of the first Superhero: Soldier Boy.
Three episodes of 'The Boys' season three land on Prime Video on June 3. The "wicked" season finale airs on July 8.