Academy Award-nominated Irish animation studio Cartoon Saloon has revealed a first look at their upcoming Netflix feature film.
Netflix and Cartoon Saloon have secured a pretty stacked cast for 'My Father's Dragon'.
The five-time nominated Cartoon Saloon co-founder Nora Twomey's upcoming animated feature is hoping to turn those nominations into a win. The film is inspired by the Newbery honoured book of the same title by Ruth Stiles Gannett, and will be produced by Mockingbird Pictures and Cartoon Saloon.
The upcoming Netflix release will feature the voices of Chris O'Dowd, Whoopi Goldberg, Ian McShane, Judy Greer, Rita Moreno and many more. Jacob Tremblay, from Pixar and Disney's 'Luca', and Gaten Matarazzo, Dustin from 'Stranger Things', are the two youngest cast members in the feature.
No release date has been set for the upcoming animation, but Netflix and Cartoon Saloon have released this image to tide us over until more details are released.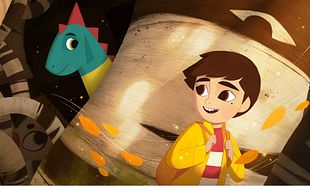 The Kilkenny-based animation studio is known for blending Irish fantasy into fantastic and heartwarming stories. Their previous efforts include 'The Secret Of Kells', 'The Breadwinner', 'Song Of The Sea' and 'Wolfwalkers'. 'My Father's Dragon' is set for release later this year.
Interestingly, the original book from 1948 was once adapted into a Japanese animated feature film in the '90s.
The official synopsis of the film is as follows: Struggling to cope after a move to the city with his mother, Elmer runs away in search of Wild Island and a young dragon who waits to be rescued. Elmer's adventures introduce him to ferocious beasts, a mysterious island and the friendship of a lifetime.
The full line-up lending their voices to the animation are: Jacob Tremblay ('Luca'), Gaten Matarazzo ('Stranger Things'), Golshifteh Farahani ('Extraction'), Dianne Wiest ('Edward Scissorhands'), Rita Moreno ('West Side Story'), Chris O'Dowd ('The IT Crowd'), Judy Greer ('Halloween'), Alan Cumming ('Goldeneye'), Yara Shahidi ('Black-ish'), Jackie Earle Haley ('Watchmen'), Mary Kay Place ('It's Complicated'), Leighton Meester ('The Weekend Away'), Spence Moore II ('The Wonder Years'), Adam Brody ('The OC'), Charlyne Yi ('Knocked Up'), Whoopi Goldberg ('Ghost') and Ian McShane ('John Wick').
Director Nora Twomey said of the exciting new feature film: "Our actors, animators and artists at Cartoon Saloon have worked together to craft this film, inspired by Ruth Stiles Gannett's amazing book. We were drawn together by a desire to tell a very special tale of friendship, adventure, and true bravery. I fell in love with storytelling as a child and Netflix excels at celebrating all kinds of stories, through different styles and distinct voices. This has given me the opportunity to look through a beautiful lens and I am excited to share what I see with our audience around the world."