Billed as a "three-week global event", the infamous performer's life of the past 20 years will be given the documentary treatment.
The highly-anticipated Kanye West documentary has teased a first-look trailer for what fans can expect from the upcoming Netflix event.
Arriving in February, 'jeen-yuhs: A Kanye Trilogy' (pronounced "genius") will be a three-part in-depth look at the rapper and performer's past two decades, from before he released his first studio record in 2004, 'The College Dropout'.
Netflix heralds the three-part release as: "A landmark documentary event presented in three acts from Clarence "Coodie" Simmons and Chike Ozah, 'jeen-yuhs: A Kanye Trilogy' is an intimate and revealing portrait of Kanye West's experience, showcasing both his formative days trying to break through and his life today as a global brand and artist."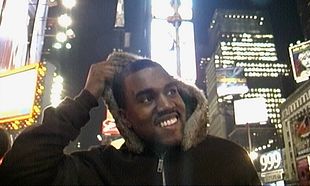 During a Netflix Playlist showcase late last year, Chike Ozah said the documentary will be a "history lesson of music", adding: "We're crossing generations in three films. At the end, Kanye is collaborating with artists that were babies. But the crazy part is that Kanye's a throughline; still as relevant at the end as he is in the beginning because his music passes the test of time."
Throughout the past 20 years, Kanye (who has legally changed his name to "Ye"), has released 10 studio albums, the most recent of which was 'Donda' in August of 2021. He also collaborated with Kid Cudi for an album under the moniker of Kids See Ghosts, as well as 'Jesus Is Born' with the Sunday Service Choir. 'Watch the Throne' was another collaborative album he made with his on-again/off-again friend, Jay-Z.
According to reports last year, Netflix paid $30 million for the rights to the Kanye West documentary.
Here's the trailer for the Kanye West documentary 'jeen-yuhs'.
'jeen-yuhs: A Kanye Trilogy' begins on Netflix on February 16.