Ryan Murphy's 'Hollywood' series is an underdog triumph, paving the way for more questions to be raised in terms of gender, sexual, and ethnic equality in both America and across the world. Even though the limited series is set in 1940's Hollywood, it speaks volumes to an audience that might not realise how far we've come (and still have yet to).
Throughout the seven episodes, we meet many different individuals who are striving to break free from conformity within the industry that was once dominated by the white male. The 'Hollywood' TV series acts as a "What If..." parallel in an industry that didn't acknowledge diversity until much later in its short life.
And in doing so, the series can be seen as confusing to watch at times. Did everything we see on screen really happen? Or was it all just a fantasy? Let's dive in and see if we can separate facts from Ryan Murphy fiction.
*Spoilers for the whole series of 'Hollywood' below - you have been warned!*
The Main Cast
The main cast of Jack Castello, Camille Washington, Dick Samuels, Avis Amberg, Archie Coleman, Ellen Kincaid, and Raymond Ainsley are all a fabric of Ryan Murphy's imagination. The movie 'Peg'/'Meg' was also never made, so essentially anything you see these cast members do on screen is all fictitious (although Peg Entwhistle did fall to her death on the Hollywoodland sign in 1932).
However, a number of other main and supporting cast members are 100% true. Rock Hundon was very real, and his sexuality was always a mystery in Hollywood. However, the actor died in 1985 after contracting HIV in 1984. Rock's agent Henry Wilson, played by the incredible Jim Parsons is also real, but the matter of how exploitative and devious the real Wilson was remains a mystery. He was known for hiring actors and actresses who wished their sexuality to be kept private.
Michelle Krusiec's character Anna May Wong is also a real-life person, who is believed to be Hollywood's first Chinese star. She did indeed go for the starring role in the movie 'The Good Earth' (which was set in China), but lost out to Luise Rainer just like in the series.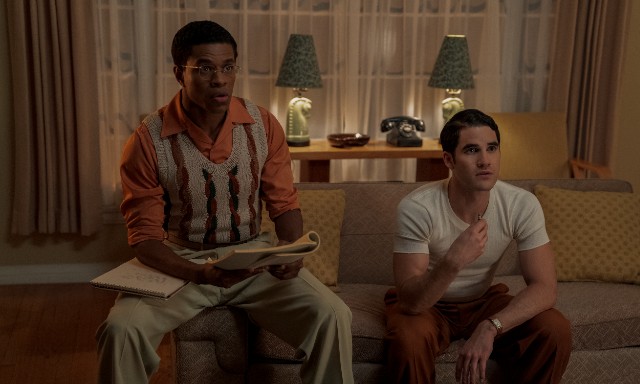 Golden Tip Gas
Do you want to head to "Dreamland"? Well baby, you can. This is real - well, kind of.
The gas station headed up by Dylan McDermott's Ernie is loosely based on the story of Scott Bowers. Bowers, who has a documentary about him entitled 'Scotty and the Secret History of Hollywood', was a known pimp in the Los Angeles area post-World War II. Throughout this role as a gas station attendant, Bowers became known as a "man for hire" at the time, who did sexual favours for those in need.
Bowers story is not too dissimilar from the crew who worked in Golden Tip Gas, but it seems that Ryan Murphy just upped the ante for the TV series and had a full crew of good looking men working for a premium service.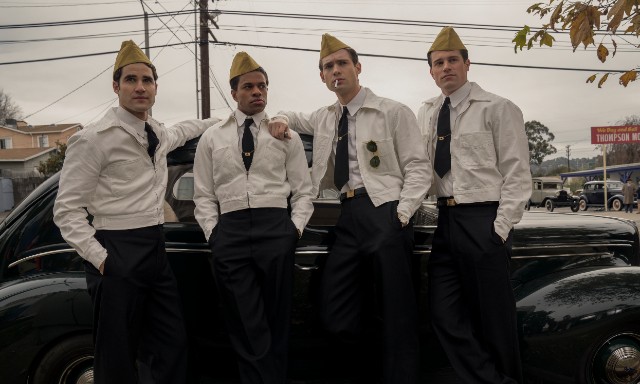 The 20th Oscars Ceremony
Due to 'Meg' being a fictional movie, and the majority of those involved in the project also being made up, most of what happens at the Oscars ceremony is complete fiction. Unfortunately, Anna May Wong never won that Oscar.
However, what is real are all of the nominations that are read out as nominees. Those nominated alongside the cast of 'Meg' are all real movies, real actors and actresses, and real directors. The real winners of the 20th Academy Awards show were 'Gentleman's Agreement' for Best Picture, with director Elia Kazan also taking home Best Director; Best Actress was won by Loretta Young for 'The Farmer's Daughter'; Best Screenplay for George Seaton and 'Miracle on 34th Street; while Best Supporting Actor and Actress went to Edmund Gwenn and Celeste Holm.
One important note to make however, is that Queen Latifah's Hattie McDaniel did in fact get that Supporting Actress title in 1939 for her role in 'Gone with the Wind' - and the story of her being made sit at the back of the hotel in the segregated section was also true (although her early appearance in the series is probably untrue, as Hattie married four men while alive).