Is there anything cuter than Baby Yoda Grogu? Come back to us when you have an answer.
Following his bittersweet departure from 'The Mandalorian' on Disney+, you can now own your very own talking, moving, eating, levitating baby Grogu toy. Well, later this year you can.
The egg-munching little green being has been given a few upgrades since we last saw them in toy form. You'll be able to feed them, and they'll be able to make a cute noise to inform you on whether they're more hungry for a bowl of tentacles (that scene still gets us) or a nicely stolen blue cookie.
The new toy is a huge update on the previous edition of The Child release by the toy company. Thanks to their abilities seen on the Disney+ series, the new Hasbro toy will be able to make objects levitate, including his favourite little round ball.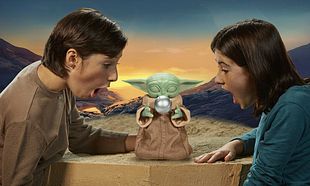 The Baby Yoda/Grogu toy will be released this October - so expect this to feature on many Christmas lists in December. Check out all of the details about the toy here.
Without a doubt, season two of 'The Mandalorian' upped the Grogu appreciation to the max. In a way, it'll be difficult to see where 'The Mandalorian' season three can take the central bounty hunter without his trusty supporting character. Add to that the fact that Gina Carano's Cara Dune has been written out of the series, it'll certainly be exciting to see what's in store in the next edition.
Next up in the Star Wars franchise will be 'The Book of Boba Fett' this December on Disney+.