*Please note this is a review of the first two episodes of the series*
'The Right Stuff' is inspired by the 1983 movie of the same name, which itself is based on the 1979 novel by Tom Wolfe. The storyline follows "The Mercury 7", a group of real-life airline pilots who were chosen in 1959 to be the first men to be launched into space by NASA.
Disney+'s 'The Right Stuff' is an eight-part National Geographic series, and also one of the first adult-focused drama series to launch on the streaming platform. If you're not familiar with what's come before, the series essentially sees the birth of America's first "reality TV" stars as the seven astronauts and their families are put under the microscope of the US media, whether they want to or not. Everything down to what underwear brand the astronauts are wearing are being asked by journalists, as America witnesses this new age of heroes move forward to inspire the nation.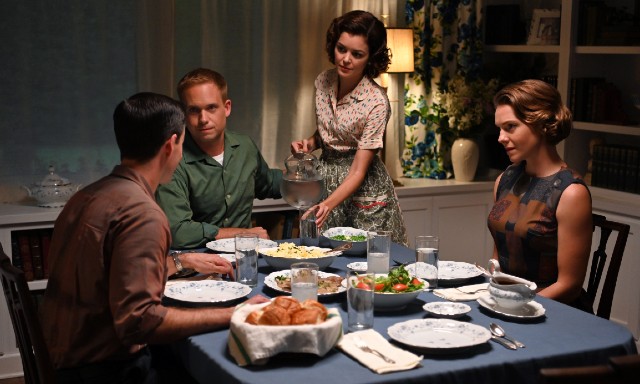 The primary focus here is firmly placed on three of the seven astronauts of the group - we have womaniser Alan Shepard (played by Jake McDorman from TV series 'Limitless'), a natural in front of the camera John Glenn (Patrick J. Adams from 'Suits'), and having trouble with the family man Gordon Cooper (Irish actor Colin O'Donoghue from Disney's 'Once Upon A Time'). The other men of the group feature, but these three provide the more impressive storylines.
If you've seen the movie from the '80s or read the original book and were a fan, then this series offers up a fresh, new perspective of the story. Yes, it's the same one, but there's been a major shift which sees the female cast members (Eloise Mumford from 'Fifty Shades' franchise, Nora Zehetner from 'Grey's Anatomy', and Shannon Lucio from 'Prison Break') all get much more attention than we've seen previously. Their characters are more than just the trophy-pieces or "wives", and help move the story along while not shifting too much of our focus away from the main arc.
From the brief snapshot that we had of the series, the first few episodes of 'The Right Stuff' hit the right levels in terms of pacing, drama, and excitement at how the world reacted to "The Mercury 7" all those years ago. The series puts it into perspective how much our world of today is overrun with everyone from social influencers to keyboard warriors. These are real heroes who lived great lives, while also celebrating the minds behind this elaborate process. It's a nice escape that will bring you back to Earth, before preparing you for that all-important liftoff.
'The Right Stuff' launches on Disney+ Friday, October 9. To find out more about the ins and outs of the series, we recently caught up with the cast and crew. Be sure to catch our interviews by clicking here.