'RuPaul's Drag Race' (RPDR) has been on the go since 2009 with the first episode introducing nine contestants and the challenge 'Drag on a Dime' where the queens had to create budget fashion looks.
We're going to explain 'Drag Race' to you in the same way we would to an alien who has crash-landed on earth and ends up in a gay bar, confused, but eager for knowledge.
It's kind of like X-Factor (the alien knows what that is) for people who create exaggerated caricatures with the help of pounds of makeup, gigantic wigs, size 11 heels, and dresses. Queens compete for the crown and a 100,000 dollar cash prize through a number of challenges. That includes singing, comedy, musicals, fashion, and design.
It's called 'RuPaul's Drag Race' and, spoiler, RuPaul is the host. He's that six foot four inch tall "woman" cackling in a hot pink bodysuit and warning everyone not to "fuck it up".
If you're not 'Drag Race' literate yet, don't panic. There are so many seasons and spin-offs, around 31 to be exact, and (mostly) everyone has felt intimidated by 'Drag Race' at one time or another.
There's so much to keep up with; "yas queen", the downfall of the term "yas queen" due to saturation in the mainstream, "it's chocolate", Snatch Game, the Mimi Imfurst effect, the Michelleification of runways.
But don't worry, you don't have to understand everything to get started. Today we're giving you the tour — welcome to 'Drag Race' for dummies.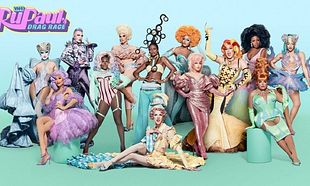 Where to start
Okay. So. Don't start at the very beginning. It's a very bad place to start. Your 'Drag Race' future depends on avoiding the over-saturation of PorkChop and the gang. Return to it once you've developed your 'Drag Race' tastes and sensibilities, but it's too risky at the start. It's basic self care.
Look, it's possible to jump in anywhere, it's not bloody 'Game of Thrones' but we'd advise starting between season two and season four. Those seasons are funny, creative, and dare we say, the beginning of the peak era of Drag Race?
But, but, but. You could also start with the 'All Stars' season that's coming out this Friday.
What is 'All Stars'?
Exceptional non-winner queens from original 'RuPaul's Drag Race' seasons come back to compete once again against 'Drag Race' alum for the 'All Stars' crown.
We've got a new 'All Stars' season on the horizon — like, literally Friday. As an "all winners" season, several previously crowned winners of various 'RuPaul's Drag Race' seasons will come back to compete for the ultimate crown and title as the Queen of Queens.
Getting stuck right in with the most recent season means you can be in control of spoilers. Yes, you'll find out who won seasons 3, 5, 11, 12, and spin-offs from the UK season one (also unreal) and 'All Stars' seasons 4 and 5.
But you won't suffer accidental spoilers, which is arguably way better and you'll still get to enjoy the seasons behind. Hook yourself with the new, stockpile the old.
Plus it's likely to be really good since the cast are synched and seasoned — they've all won a crown.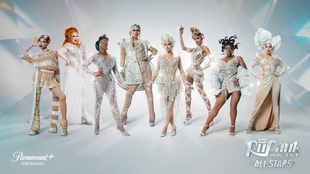 Who's who?
Left to right.
Yvie Oddly won season 11 with her wacky weirdness combined with a f*ck you confidence that was kind marmite with the audience during her season. We love her.
Jinkx Monsoon, winner of season five, is beloved in the community for her quirkiness and unique references.
Shea Couleé won season five of 'All Stars' and is potentially the biggest powerhouse in the competition; she's good at everything.
Winner of season three Raja is the original fashion queen. A gas b*tch.
In 'All Stars' season four had two winners, Trinity Taylor the feisty comedy queen and Monet Exchange the lovable ejit. It's worth noting that the double-winner thing will come up a lot because people feel very passionate about it.
Between them is winner of season twelve, Jaida Essence Hall, is sweet, stylish, and has one joke that she recycles often "look over there" but everyone loves it.
The Vivienne won 'Drag Race UK' season one and is known for being one of the funniest queens in one of the funniest seasons ever.
The dictionary is officially open
It's important to understand some key references. Heres some of the terminology you're going to run into over and over from the original Drag Race Dictionary.
1. Yassss
Bastardisation of "yes" used as a term of encouragement, agreement or excitement
"Yassss queen! Werk!
2. Snatch game
n. A main challenge featured on most seasons of RuPaul's Drag Race, where contestants are challenged to present their best and funniest celebrity impersonations. The name and format of the challenge are a parody of the popular 1960s-1970s celebrity panel game show "The Match Game"; the term "Snatch" is a vulgar reference to a woman's vagina.
3. Read
v. To wittily and incisively expose a person's flaws (i.e. "reading them like a book"), often exaggerating or elaborating on them; an advanced format of the insult. The term is a reference to the film Paris is Burning.
n. Criticism made to a drag queen.
4. House Down
A great deal; a lot. Often used to punctuate the end of a phrase for emphasis.
e.g. "Bitch painted the house down."
Get some Drag-ercise
Getting into 'Drag Race' is a lot like running a marathon; it's important to make small, conscious efforts towards the ultimate goal. Start following some queens on Instagram, work up to watching a few episodes a week, and pretty soon, you'll be binge-watching 'All Stars' like it's your job.
We love a good debrief, so heading over to some of the queens Youtube series for episodical reviews is a must. It's worth checking out 'The Pit Stop', 'Fashion Photo Ruview', and 'Bootleg Opinions'. If an alien could do it, so can you.
Stream 'RuPaul's Drag Race' and spin-off shows on WOW Presents Plus.