The TV series will be available under Disney+'s new brand, Star.
The movie 'Love, Simon' arrived in 2018, heralding a new arrival in the LGBTQ+ romantic comedy category. Becoming a global success, and with critics on hand with favourable reviews, the next logical thing for creators Elizabeth Berger and Isaac Aptaker was to do something else with this world. And so, a new spin-off TV show named 'Love, Victor' was created.
Inspired by the novel 'Simon vs. the Homo Sapiens Agenda' by Becky Albertalli, 'Love, Simon' followed a young high-school student, Simon, who fears that his secret of liking boys will be revealed, changing his world forever. While hiding his identity, he chats freely with another fellow student via email. "Blue" is also gay and fears coming out, and the pair share messages until finally, Simon's secret is outed on social media.
A cute, thought-provoking movie, 'Love, Simon' highlights the intricacies of being an adolescent coming to terms with your sexuality while other externals forces seemingly threaten the life you're living.
The spin-off sequel series 'Love, Victor' was created off the back of this movie's success, focussing on a new student who enters the same high school years later. The lasting effects of Simon's dramatic story can still be felt in the school halls as Victor enrols, which spurs him on to message Simon for some advice.
'Love, Victor' will premiere on Disney+'s new brand Star on February 23, and we were able to catch up with creators Elizabeth Berger (EB) and Isaac Aptaker (IA) ahead of its release.
What is the biggest difference between 'Love, Victor' compared with 'Love, Simon'?
IA: We wanted to start off at a much earlier point. With 'Love, Simon', it's about a kid who knows he's gay. He's just struggling with 'How do I tell my friends and family?' With 'Love, Victor', we're telling the story of a kid who is really just starting to figure out what his sexual orientation is. So season one is about his journey of self-discovery.
What made you want to make a TV show to continue this story, rather than another movie?
EB: The response to 'Love, Simon' was really amazing for us. Such a beautiful outpouring from fans, and it felt like a worthwhile project. Then, it really felt like a good opportunity to tell a different kind of story. We thought that we'd already told the story of Simon and his very specific family. We got really excited at the idea of telling a story about a Latinx young person, which we thought there wasn't enough of those stories on television right now. We filled a writer's room with Latinx young writers, and we started hearing their stories, and that's where things crystallised. It felt like a whole new story to tell.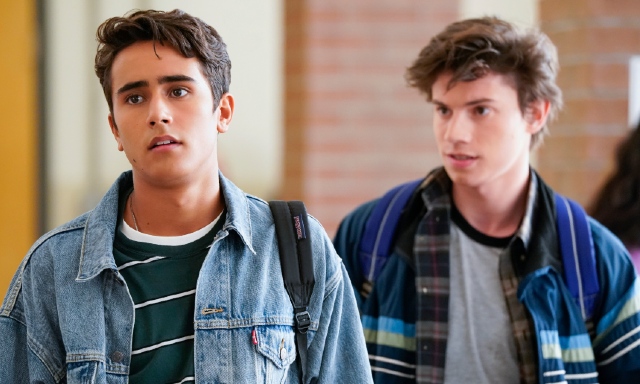 Simon gets re-introduced in the series - was that always going to happen?
IA: That was the initial jumping-off point. What if we create this young guy in a new world, and he learns about the legacy of Simon? He had a fairytale ending - and that makes Victor angry. He feels like, 'Why don't I get that? Why is it so much harder for me?'
EB: We did feel that we'd already told Simon's story, and so it was time to tell somebody else's. So the idea of involving Simon lightly, but really focusing on Victor, kind of felt right for us from the start.
What message do you want the viewer to take away from 'Love, Victor'?
EB: I hope it's a show that makes people feel more comfortable in their own skin, whatever that skin is. We want people to feel like there's a place for them. Hopefully it's a show that will make families speak to each other, and bring people closer together in their little worlds. For us, it's a show about inclusivity and finding your place in the world.
What can you tell us about season two of the series?
IA: They get mad at us when we talk about season two too much! But we're really excited, because this is going to be a show that grows up and matures as its characters do. As the characters go further in their high school learnings, and get more involved in romantic relations, the show grows up with them. It allows us to take on more substantial, sophisticated storylines.
Season one of 'Love, Victor' will be available on Star on Disney+ from Wednesday, February 23. The new general entertainment brand will bring with it even more award-winning TV series, blockbuster movies, and exclusive originals to Disney+.