We caught up with Sienna Miller, Rupert Friend, Michelle Dockery and Naomi Scott ahead of the series' release.
We at entertainment.ie had the opportunity to chat with the cast of 'Anatomy Of A Scandal' in an interview ranging from the actors' mindset going into the series, to the types of shows they watch in their spare time.
The six-part series, based on the book by Sarah Vaughan, is a fictional story predominantly based around a court case involving a Government Minister and a colleague who claims he sexually assaulted her.
James Whitehouse (Rupert Friend) is a family man married to Sophie (Sienna Miller), who flat-out denies the charges placed against him by Olivia (Naomi Scott). The story closely follows Sophie as she deals with these allegations about her husband, and Barrister Kate Woodcroft (Michelle Dockery) who remains unhinged in wanting to take down this man and his career.
Here's our interview with the cast of 'Anatomy Of A Scandal'.
*Spoilers for all six episodes below*
Were there any real-life cases you looked at that helped bring your character to life?
Michelle: I worked very closely with a criminal barrister for the role, so most of my education of the job was through her.
Naomi: I researched a bunch of different cases, just to inform uniquely what Olivia would do in that situation.
Rupert: He's very much an amalgam of people that were Sarah Vaughan's intention when she wrote the book. So, when they adapted it into a script, we didn't want to make this a biopic about a particular politician. But I was very inspired by the politicians who I saw were charismatic and charming and full of potential - but there was a foible or an inner weakness/darkness/secretness that basically was their undoing. There was something quite Greek about that idea that I saw in James Whitehouse.
Michelle, how did it feel for you to discover your character's history? Or had you read the book beforehand and knew what was coming?
Michelle: I did read the book, and it was really informative. There are some parts in the book that don't appear in the show but sometimes they're really useful just so you can delve deeper into the character. There's a surprise as you know and I was so gripped by that at the turn of events. I think that plays out really well in the show, and they did a really good job of not revealing too much of the story and what it entails. Sarah Vaughan is incredible, and she was on set a few times while we were working. There's so much detail in each chapter and I think they do that so well. I was so happy to be a part of this.
Naomi, there are many real-life women who come forward and are in a similar situation as Olivia where they are not always believed. How did it feel for you to play her knowing this?
Naomi: It's interesting. What I love about this show is that it kind of puts the audience in the seat of the jury. And so you're watching it and you're having to react to what you're seeing and I think it says more about the person watching it and how we feel about what we're seeing and do we believe or not believe and why is that. There's a point in the court case where Olivia says 'I was still in love with him' and the air goes out of the room as if she said something that was going to affect her case. But really when you step away from that and you ask the question 'Why does her being in love with him make her more unreliable?' and 'Why as people/society do we see it as weakening her case?' I loved that through the gateway of entertainment, this show could potentially open up conversations in living rooms and in amongst family members and friends and talk about things they don't usually talk about. It can open conversations.
Sienna, how did it feel for your character to go on this journey with James, and then to leave him with that parting gift at the end?
Sienna: I was so excited for that scene. I actually found it really - that speech to Kate, which I can't really talk about without spoiling everything - that was one of the things that I found incredibly moving every time I read the scripts. I loved that there was that resolve and I wanted her to be really excited. I found that scene something that I was really looking forward to shooting. I think had there not been the arc of self-discovery if she had remained that steadfast person she was at the beginning, I don't think I would have been interested in the role. But I like that with all of these characters you're going on a journey of self-discovery with them. I respected the steps that she was beginning to take to change her life.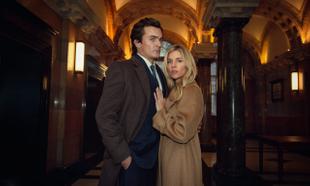 Could Kate be a descendent of Lady Mary from 'Downton Abbey'?
Michelle: I feel like with every character I play, there are always similarities and that you can take from one and see in the other. Kate is as stoic as Lady Mary and I think if Mary had to put on the robe and the wig, she would probably hold her own in a courtroom like Kate Woodcroft.
Was the subject matter at hand here something you wanted to explore on TV or film?
Rupert: I think it's an enormously important topic, but I wouldn't say it's something I was actively looking for. And indeed in this story, playing the pariah at the centre of it was certainly a tall order and not necessarily an attractive proposition. But trying to understand where people get this sense of entitlement from and this sense of 'never having done anything wrong' was an interesting challenge for sure.
Sienna: I think for me, I'm just excited that I'm being sent scripts where these kinds of issues are front and centre. Which is really a very very new thing to experience in a 20-year career. I mean the conversations that are being had are essential and overdue, and I am seeing it reflected back when we're watching on screen, such as 'I May Destroy You' or 'Promising Young Woman'. These topics are being looked at in a way that they just weren't before, and that's inspiring.
Is the courtroom drama/thriller genre something you like to watch in your spare time?
Sienna: I love watching these kinds of shows, I do. I like 'Broadchurch', love that, couldn't stop watching it. 'Big Little Lies' too. I do love them, but I don't have the patience sometimes. I start watching a series that go on and on, and I love them, but I never stick with them. I need there to be a finite end.
Rupert: I don't know 'Broadchurch', I'll have to give it a go.
Michelle: Yes absolutely this is the sort of drama I like to see. And along with David E. Kelly's other shows, I'm such a fan of this type of show.
Naomi: Deffo, for sure. I also have no self-control so this would be something I would stay up till very, very late watching.