search for anything!
e.g. Barbie
or maybe 'Ashoka'
Dune: Part Two
Paul Mescal
search for anything!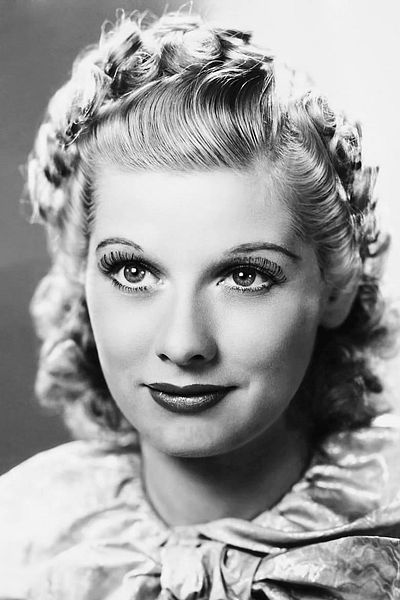 Lucille Ball
Actor
Lucille Désirée Ball  (August 6, 1911 – April 26, 1989) was an American comedian, film, television, stage and radio actress, model, film and television executive, and star of the sitcoms I Love Lucy, The Lucy–Desi Comedy Hour, The Lucy Show, Here's Lucy and Life With Lucy. One of the most popular and influential stars in America during her lifetime, with one of Hollywood's longest careers, especially on television, Ball began acting in the 1930s, becoming both a radio actress and B-movie star in the 1940s, and then a television star during the 1950s. She was still making films in the 1960s and 1970s.
Ball received thirteen Emmy Award nominations and four wins. In 1977 Ball was among the first recipients of the Women in Film Crystal Award. She was the recipient of the Golden Globe Cecil B. DeMille Award in 1979, the Lifetime Achievement Award from the Kennedy Center Honors in 1986 and the Governors Award from the Academy of Television Arts & Sciences in 1989.
In 1929, Ball landed work as a model and later began her performing career on Broadway using the stage name Dianne Belmont. She appeared in many small movie roles in the 1930s as a contract player for RKO Radio Pictures. Ball was labeled as the "Queen of the Bs" (referring to her many roles in B-films). In 1951, Ball was pivotal in the creation of the television series I Love Lucy. The show co-starred her then husband, Desi Arnaz as Ricky Ricardo and Vivian Vance and William Frawley as Ethel and Fred Mertz, the Ricardos' landlords and friends. The show ended in 1957 after 180 episodes. They then changed the format a little - lengthening the time of the show from 30 minutes to 60 minutes (the first one went 75 mins), adding some characters, altering the storyline somewhat, and renaming the show from "I Love Lucy" to "The Lucy-Desi Comedy Hour", which ran for three seasons (1957–1960) and 13 episodes. Ball went on to star in two more successful television series: The Lucy Show, which ran on CBS from 1962 to 1968 (156 Episodes), and Here's Lucy from 1968 to 1974 (144 episodes). Her last attempt at a television series was a 1986 show called Life with Lucy - which failed miserably after 8 episodes aired although 13 were produced.
Ball met and eloped with Cuban bandleader Desi Arnaz in 1940. On July 17, 1951, almost 40 years old, Ball gave birth to their first child, Lucie Désirée Arnaz. A year and a half later, Ball gave birth to their second child, Desiderio Alberto Arnaz IV, known as Desi Arnaz, Jr. Ball and Arnaz divorced on May 4, 1960.
On April 26, 1989, Ball died of a dissecting aortic aneurysm at age 77. At the time of her death she had been married to her second husband, standup comedian and business partner Gary Morton, for twenty-eight years.
Description above from the Wikipedia article Lucille Ball, licensed under CC-BY-SA, full list of contributors on Wikipedia
---
More from us on Lucille Ball