search for anything!
e.g. Florence Pugh
or maybe 'Andor'
House of the Dragon
Rings of Power
search for anything!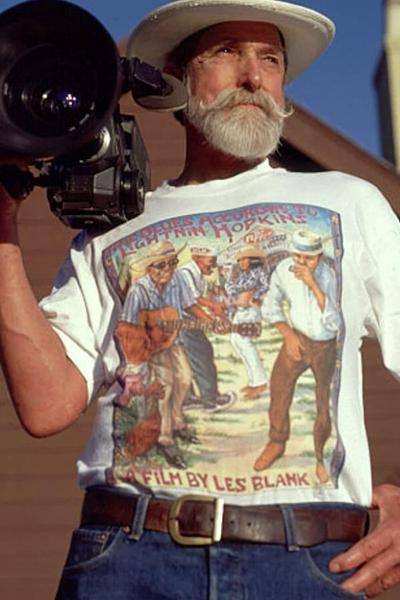 Les Blank
Director | Producer | Actor | Writer
From Wikipedia, the free encyclopedia.  
Les Blank (b. 27 November 1935, Tampa, Florida, United States) is an American documentary filmmaker best known for his portraits of American traditional musicians.
Blank attended Tulane University in New Orleans, where he received a B.A. in English literature and an M.F.A. in theater. He had also studied communications at the University of Southern California.[1][2] Following his university education he founded his own production company, Flower Films, and most of his films since that time have been independently produced, often with the assistance of grants from cultural agencies, both governmental and non-governmental.
Most of his films focus on American traditional music forms including (among others) blues, Appalachian, Cajun, Creole, Tex-Mex, polka, tamburitza, and Hawaiian musics. Many of these films represent the only filmed documents of musicians who are now deceased.
Blank's films focusing on musical subjects often spend much of their running time focusing not on the music itself but on the music's cultural context, portraying the surroundings from which these American roots musics come.
Other notable films on non-musical subjects include a film about garlic and another about gap-toothed women, as well as two films about German film director Werner Herzog: Werner Herzog Eats His Shoe (1980) and Burden of Dreams (1982), the latter about the filming of Herzog's Fitzcarraldo. The Maestro; King of The Cowboy Artists (1995) and Sworn To The Drum (1995) were Blank's last two films using 16mm film. He now works in digital. His most recent film, All In This Tea, which was co-directed by Gina Leibrecht, is a profile of the western Marin County-based tea importer and adventurer David Lee Hoffman. In 2007 Blank was awarded the prestigious Edward MacDowell Medal in the Arts.
Les's son, Harrod Blank, has also become a documentary filmmaker.
Blank lives in Berkeley, California. His company, Flower Films, is based in El Cerrito, Contra Costa County, California.
Description above from the Wikipedia article Les Blank , licensed under CC-BY-SA,full list of contributors on Wikipedia.
---