search for anything!
e.g. Florence Pugh
or maybe 'Andor'
House of the Dragon
Rings of Power
search for anything!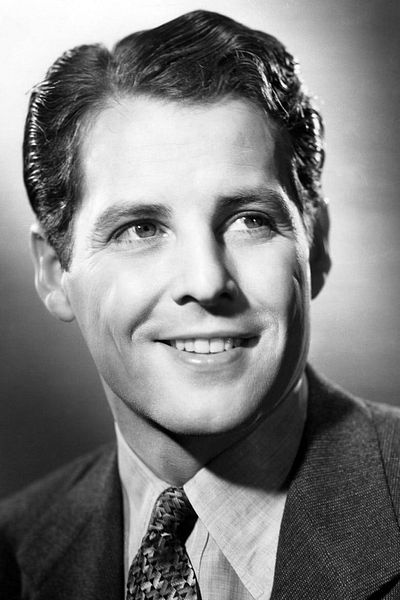 James Ellison
Actor
From Wikipedia, the free encyclopedia.
James Ellison (May 4, 1910 - December 23, 1993) was an American actor, born James Ellison Smith in Guthrie Center, Iowa, son of Edward James Smith and Ona Mary Ellis.
Ellison appeared in nearly seventy films between 1932 and 1962.
Ellison worked for a time in a film laboratory and while there was offered a screen test. He developed it himself and when he saw it, decided it was not satisfactory so he would not show it to the director. But he saw it anyway and Ellison got a contract.
Despite his rugged good looks and height of 6 feet 3 inches, Ellison's limited range and somewhat wooden screen presence kept him from the first (or even second) ranks of stardom. He spent much of his career in Westerns, including a stint in the mid-thirties as the sidekick of Hopalong Cassidy in Paramount's successful series. In 1938, he played a charming, romantic character opposite 26 year old Lucille Ball in the comedy, "Next Time I Marry", a film where Ball had her first top billing on screen credits. Before that, in 1936, he played his highest-profile role, as Buffalo Bill in Cecil B. DeMille's The Plainsman, which also starred Gary Cooper and Jean Arthur.
Despite that film's success, Ellison spent most of the remainder of his career shuttling between cowboy pictures and more varied roles, primarily in B movies with titles like Mr. District Attorney in the Carter Case and The Undying Monster. He had a supporting role in 1941's Charley's Aunt (which starred Jack Benny) and played the romantic lead in 1943's The Gang's All Here, a Twentieth Century Fox musical in which he seemed somewhat lost among the vivid antics of Carmen Miranda, Charlotte Greenwood, and Edward Everett Horton (and was the only principal not to sing a note). He also co-starred with Tom Conway and Frances Dee in Val Lewton's production of I Walked with a Zombie, directed by Jacques Tourneur.
Ellison landed another romantic lead role as 'Jerry Gibson' in the musical film Lady, Let's Dance (1944) which starred ice skating sensation 'Belita'.
In the early 1950s, Ellison moved from acting to real estate. Joining fellow veteran Jackie Coogan, Ellison returned to the screen only once to play Axel 'Longhorn' Gates in a picture called When the Girls Take Over (1962).
James Ellison died at age 83 in Monterey, California after suffering a broken neck as the result of a fall.
Description above from the Wikipedia article James Ellison (actor), licensed under CC-BY-SA, full list of contributors on Wikipedia.
---