search for anything!
e.g. Barbie
or maybe 'Ashoka'
Dune: Part Two
Paul Mescal
search for anything!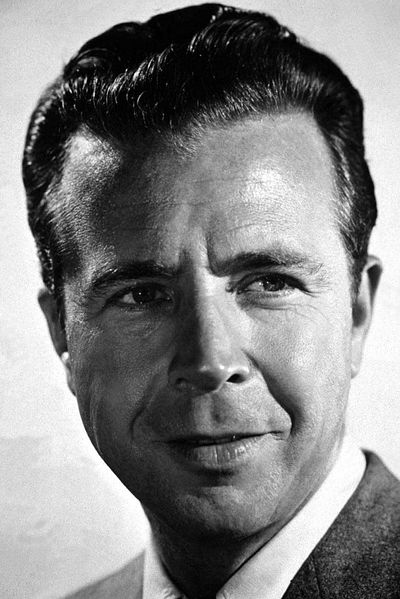 Dick Powell
Actor | Director | Producer
Richard Ewing "Dick" Powell (November 14, 1904 – January 2, 1963) was an American singer, actor, producer, director and studio boss.
Born in Mountain View, the seat of Stone County in northern Arkansas, Powell attended the former Little Rock College in the state capital, before he started his entertainment career as a singer with the Charlie Davis Orchestra, based in the midwest. He recorded a number of records with Davis and on his own, for the Vocalion label in the late 1920s.
Powell moved to Pittsburgh, where he found great local success as the Master of Ceremonies at the Enright Theater and the Stanley Theater. In April 1930, Warner Bros. bought up Brunswick Records which at that time owned Vocalion. Warner Bros. was sufficiently impressed by Powell's singing and stage presence to offer him a film contract in 1932. He made his film debut as a singing bandleader in Blessed Event. He went on to star as a boyish crooner in movie musicals such as 42nd Street, Footlight Parade, Gold Diggers of 1933, Dames, Flirtation Walk, and On the Avenue, often appearing opposite Ruby Keeler and Joan Blondell.
Powell desperately wanted to expand his range but Warner Bros. wouldn't allow him to do so, although they did (mis)cast him in A Midsummer Night's Dream (1935) as Lysander. This was to be Powell's only Shakespearean role and one he did not want to play, feeling that he was completely wrong for the part. Finally, reaching his forties and knowing that his young romantic leading man days were behind him he lobbied to play the lead in Double Indemnity. He lost out to Fred MacMurray, another Hollywood nice guy. MacMurray's success, however, fueled Powell's resolve to pursue projects with greater range and in 1944, he was cast in the first of a series of films noir, as private detective Philip Marlowe in Murder, My Sweet, directed by Edward Dmytryk. The film was a big hit and Powell had successfully reinvented himself as a dramatic actor.
The following year Dmytryk and Powell re-teamed to make Cornered, a gripping, post-WWII thriller that helped define the film noir style. He became a popular "tough guy" lead appearing in movies such as Johnny O'Clock and Cry Danger. But 1948 saw him step out of the brutish type when he starred in Pitfall, a film noir that sees a bored insurance company worker fall for an innocent but dangerous femme fatale, played by Lizabeth Scott. Even when he appeared in lighter fare such as The Reformer and the Redhead and Susan Slept Here (1954) he never sang in his later roles. The latter, his final onscreen appearance in a feature film, did include a dance number with costar Debbie Reynolds.
From 1949-1953, Powell played the lead role in the National Broadcasting Company radio theater production Richard Diamond, Private Detective. His character in the 30-minute weekly was a likable private detective with a quick wit. When Richard Diamond came to television in 1957, the lead role was portrayed by David Janssen.
---