Interview: Elizabeth Lail, star of Netflix's 'You'
Netflix's 'You', starring Elizabeth Lail and 'Gossip Girl''s Penn Badgley, has been binge-watched in the millions since it arrived on the streaming service last December. Adapted from the page-turning psychological thriller book of the same name by Caroline Kepnes, 'You' is the classic story of boy meets girl, except the boy is actually a deranged stalker. A story that's been told before, but this time we got it from the point of view of the stalker, Joe, played by Badgley.
Elizabath Lail starred as Beck, the object of his desires who finds herself embarking on a relationship with Joe completely unaware of how much of a sociopath she was dealing with. The show has provoked a huge reaction from fans, and left us all guarding our social media more carefully. It has also brought the shining talent of Elizabeth Lail into the limelight.
You may have previously seen Texas-born Lail in the fourth season of 'Once Upon a Time' when she landed the coveted role of Anna (of 'Frozen' fame). She also starred in American supernatural TV series 'Dead of Summer' as Amy Hughes.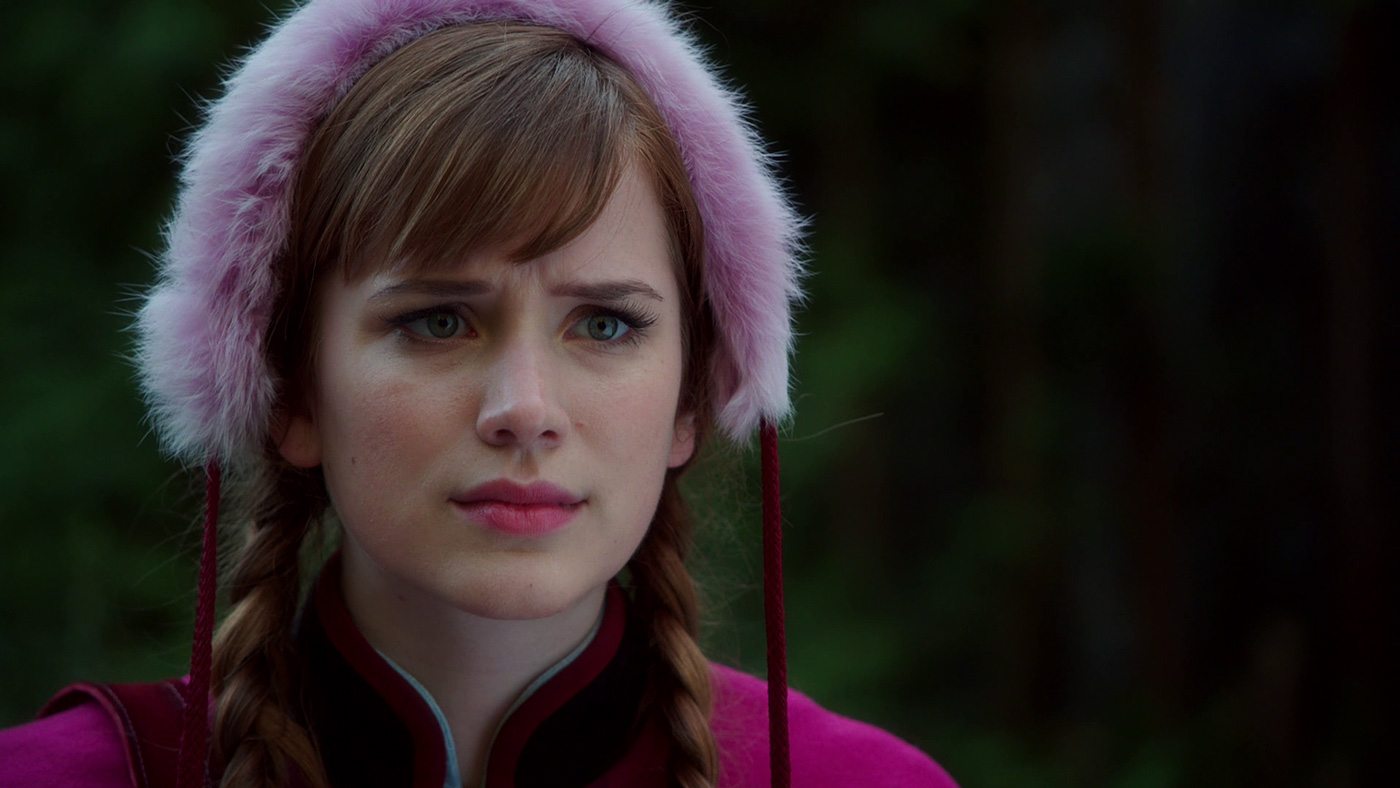 Elizabeth Lail as Anna in 'Once Upon a Time'
'You' is undoubtedly her breakout role, launching her into global fame for the ill-fated character of Beck. We had a chance to have a chat with Elizabeth recently following the success of the show, and while she was giving nothing away about any possible re-appearance in some shape or form in season 2, she still had plenty to say about this much-talked about series.
How have things been in the aftermath of the phenomenal success of 'You' – Netflix have said something like 40 million people have watched it?
Yeah! You know honestly nothing really changes in my world. I'm thrilled, it's really exciting that everyone is getting a chance to watch it.
What are people's reaction to the show are you finding?
Well most of my friends spend most of the show yelling at my character - they are very frustrated with her!
I find with fans there's all kinds of reactions; there's the people who want Beck and Joe to be together and then there's the people that find Beck really annoying. And then there's the sensible ones who think Joe is the psychopath.
It's such a conflicting show, in that you have that preconceived idea from romantic comedies that you should be rooting for Joe to get the girl. Did you find that interesting when you were looking at this project initially – how it turned the rom-com on its head?
Yeah! Well it's such a reminder to how programmed we are to root for the hero no matter what, to any end, which is both scary and unfortunate. And I am the same, when I was reading the book – you're definitely rooting for Joe. But as soon as I started playing Beck, I was Team Beck all the way. I wanted some girl power to come through and save the say, but alas.
The show is definitely making people question what they are saying about themselves on social media.
Definitely. I got a funny tweet the other day that was like 'Oh I think I saw Elizabeth Lail walking around New York City and I immediately googled to find out where she lives and all of a sudden I realized that I was turning into Joe." So I think it is making people question that kind of gut instinct. We use our phones to find out things that really we shouldn't know.
Penn Badgley has come out and said fans should absolutely not be romanticising Joe, what is your opinion on the character of Joe?
I think he's severely twisted and I think he's the ultimate male toxic character. And it's that kind of masculine toxicity that manifests into someone who thinks that they're so right and so good and knows exactly what's best for that female in his life. So I'm I'm definitely with Penn in the sense that he is not really worth romanticizing because in actuality, he represents the worst part of our society.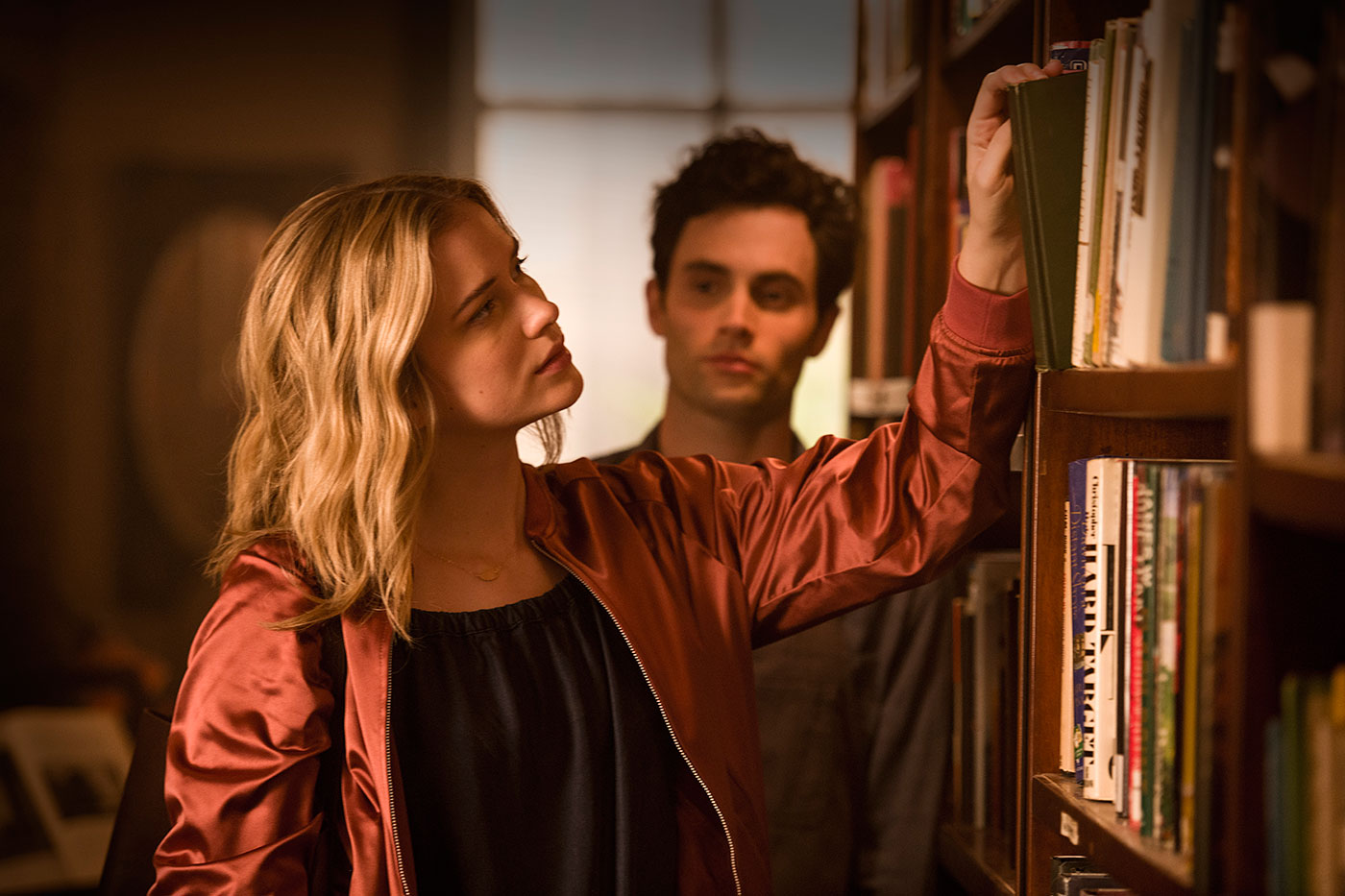 Elizabeth Lail & Penn Badgely in 'You'
As you said, there have been mixed opinions on the character of Beck from fans, what do you think of her?
Joe is an unreliable narrator and he is creating her. You know he does the same thing that he accuses Benji of which is creating a role for her, putting her on this pedestal and assuming that she's all these things. I have found it's a bit of a mixed bag how people respond to Beck. I think a lot of the guys find her annoying but I think a lot of young women, I hope, relate to her. I find her very relatable because she is so imperfect. And I know I certainly am and I hope I'm not the only one trying to figure out life and making mistakes and trying to learn from them. So I have a lot of heart for her.
How much can you tell me about your involvement in season 2? There are a lot of theories on the internet that you are still alive!
I know, that's so sweet! Well if you've read the book it's pretty clear that Beck is no more. That's really all I can say.
Is there a chance she could show up as a vision Joe conjures up?
I truly don't know.
We'll have to get Justice for Beck though!
YES, I hope so. I hope that women are guarding their hearts and getting to know people outside of what they see on the internet after watching this show.
I was reading recently that 'You''s showrunner Sera Gamble felt that it was necessary to show Beck's masturbation scenes to represent women's sexuality on screen. Would you agree or how did you feel about doing those scenes as an actress... not to get too personal!
You know I definitely think it's important for us to represent female sexuality because I know for me it feels as if it's not talked about. It's as if its dirty or something we don't do. So I think it's great to represent that and hopefully paint it in a positive light. Although when I had to film that scene all I could think was 'Oh God my poor parents are going to watch this!' So pros and cons."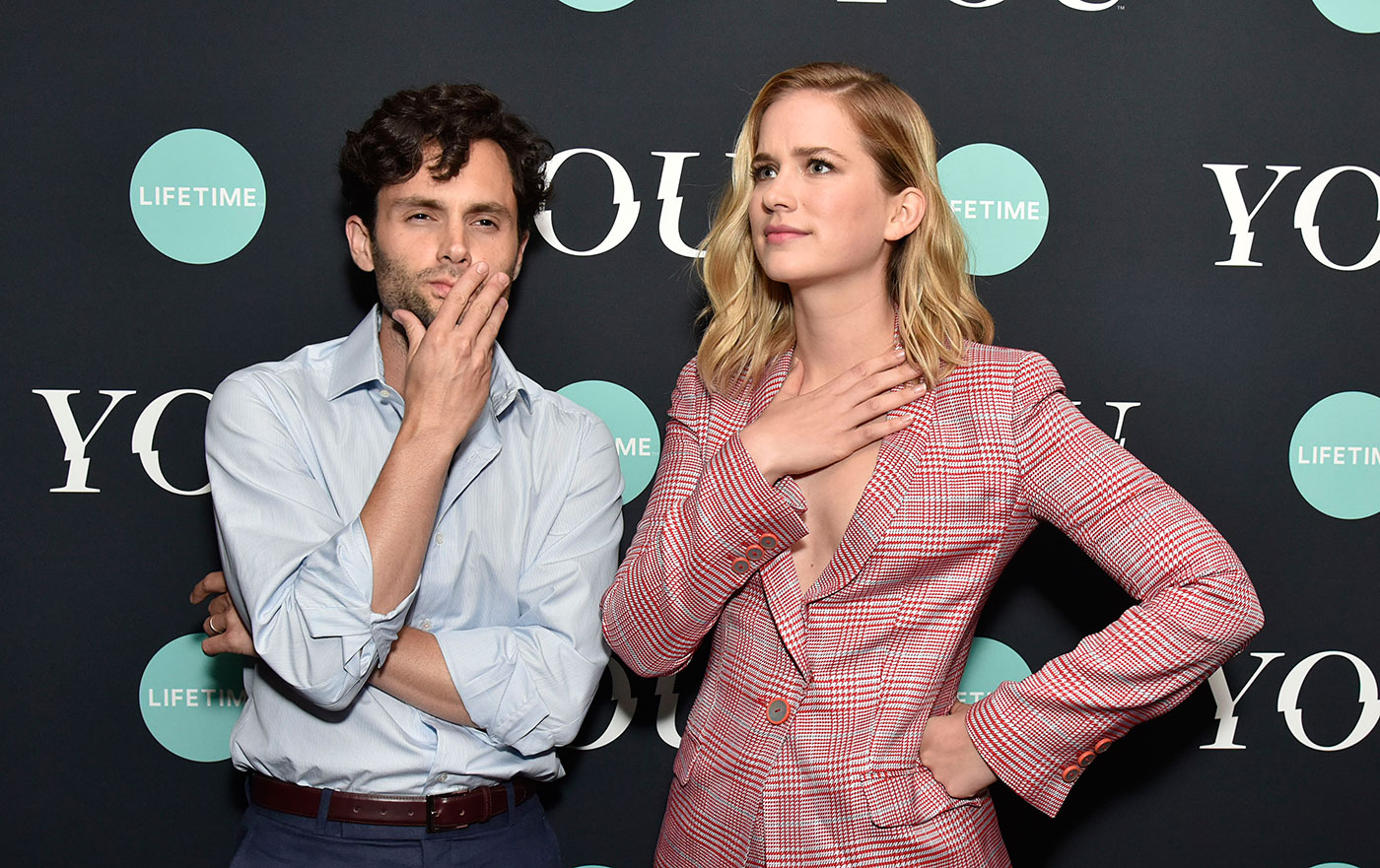 Elizabeth Lail & Penn Badgely on the Red Carpet for 'You'
What was it like to work with Penn Badgley, please tell me he is actually a really nice guy and nothing like Joe.
Yes, he is the nicest guy, actually. And just really connected to his heart and his spirit so that makes him a really generous person to work with. He's lovely. I just I love how he treats everyone with the same open heart... that's pretty miraculous. Like I was in awe of him constantly, as a human, as a person.
What's coming up for you next in 2019?
There's nothing I can say quite yet.