THUMPER: Making the album was like "therapy that nearly f***ing killed us"
I meet Oisín Leahy Furlong in a busy café in Dublin's North Strand. The weather is miserable, wet and windy. But there's a sense of optimistic excitement coming from THUMPER's frontman.
Things are ramping up again on the Irish music scene after a fretful and relentless two years for musicians. There's a simmering undertone signalling that things are kicking off again, like we've been inside a creative pressure-cooker that's about to release. One act building up steam over the last few years are THUMPER, set to release their long-awaited debut album 'Delusions of Grandeur' this month.
"It seems to me that in the Irish music scene there's been a sea change where everyone is just less embarrassed of themselves," says Leahy Furlong. "Just less obsessed with their outward image of Irish people in a global cultural scene.
"When we started, it was quite uncool to be in a guitar band. We just did it because that was the sort of music I like. Since then, there's been this post-punk revival with Murder Capital and Fontaines D.C., amazing, amazing bands."
He recalls going to a gig recently featuring new bands, fresh out of lockdown. "It was amazing, there was a real heavy post-punk, spoken word over single note guitar thing that's happening.
"You would think that bringing the whole guitar thing back in vogue would be like 'finally we've hit the current now'. But with our album - it's all melody, harmony. It's not that colour at all."
It's been a manic couple of years for the noise-rock band from Dublin. Coming up through the ranks as one of Ireland's most exciting acts, alongside a modern revival of guitar-driven rock music, THUMPER have been taking the scene by storm. They've grown a cult following at home and abroad, and before the world shut down in 2020, were in the midst of a massive European tour.
But, once they jumped back on a plane to Ireland, the sextet decided to take the opportunity to finish their debut album.
"From us flying back in March, it was about fourteen or fifteen months recording from that point onwards. I think it was therapy. Therapy that nearly fucking killed us. Striving for something beyond, beyond, beyond what you had intended initially.
"Alan (the band's guitarist) basically got a taxi straight to our home studio and started combing through everything we'd done, I think out of pure anxiety rather than anything else. We had so much pent up energy and we were pretty exhausted, a couple of months into touring at that point. When it's suddenly taken away like that - everyone has a version of this story - but it's very anxiety inducing.
"Nobody could get to the studio because we were in lockdown. So I didn't see him for like, two months. I think he slept there and was there every day doing something. When I finally got in, 'The Loser' had strings and an orchestra and a choir and I just took his hands off the console and was like 'Let's just take a breather here'."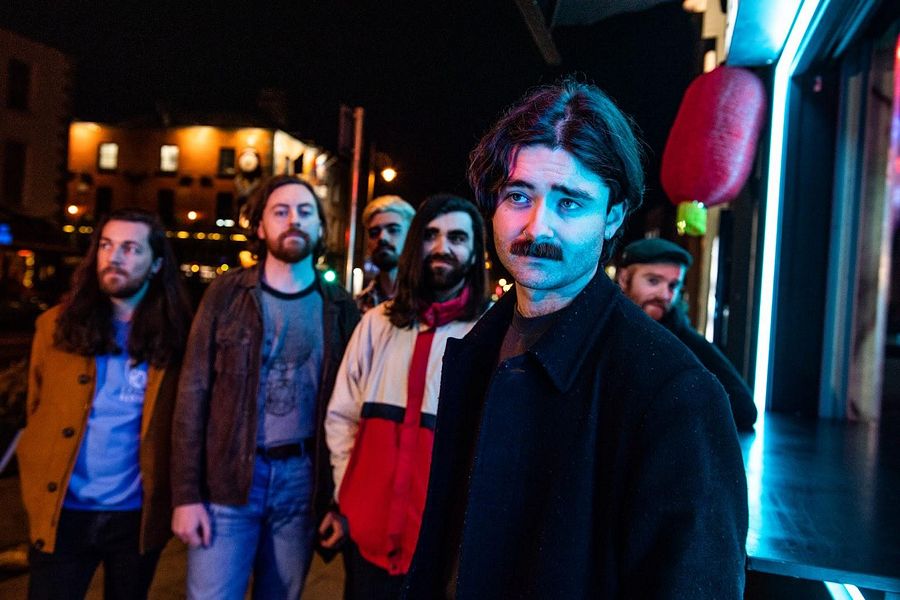 Making the album clearly wasn't smooth sailing. Far from it, in fact. COVID decimated the music and arts industries at large within the country, completely shutting down for the most part. In such uncertain times, it's hard to block out that looming thought of "just when will we ever get out of this?"
The singer admits it was a challenge for the up and coming band. "With the backdrop of everything that was going on, you know, every two weeks it was 'flatten the curve'. You have to live in a bubble, we couldn't really think about the wider context. There were a million times the band probably was about to break up. Each one of us, at various different stages, had mental breakdowns because we had built up so much steam."
Leahy Furlong takes a moment to find the perfect analogy of what the last few years have been like for the band. Then, he smiles and quips,
"But what [lockdowns] did unearth was that we had all this time on our hands that we hadn't anticipated. So yeah, a lot of times we were just losing the plot and then completely lost our way with it, but we got there in the end and we're really proud of it."
'Delusions of Grandeur' arguably represents a marker of where the band are now compared to where they started. On a whole, it's a bombastic, almost non-stop ride of heavy, rolling guitars and bounding melodies. Some of the songs on the album will be familiar to fans. Tunes like 'Topher Grace', with its spoken word-like lyrics storying a rough night at a house party, and 'Ad Nauseum' both feature.
But the band also delves more into unknown waters, showing a knack for experimentation, finding the right sound, grinding it out and layering it up into that grandiose style they've become known for. There's elements of post-punk, pop-rock and even grunge throughout - influences which change from song to song, almost mapping out the journey of the band from its origins.
Between the noise, there's quieter moments of reflection on the album too, like the track 'Strychnine', which begins with just an acoustic guitar and Leahy Furlong's downbeat lyrics. The song almost tricks you a few times with huge build ups, only to settle back down again. Then, with a wink and a nod, we're suddenly led straight into the thunderous and catchy 'The Loser'.
"We tried our best to make [the album] quite conceptual. 'Delusions of Grandeur' obviously references the lyrical themes of the album. But also, it started off just me and a microphone in my room just recording everything and putting it out on tape. Really low-fi, really low stakes. The fact that now, all this time later it's a six-piece band with two drummers, is sort of a nod to that ridiculous outcome from where it all began."
"Even to the point where the arrangements, the amount of guitars, the amount of harmonies. It will be impossible to recreate, that's our own problem for the future," he laughs. "It really became important for us to make sure the album stood on its own two feet. So in a way it is representative of us at a time, but more representative of a shift in perspective or aiming for something beyond where we were."
The album matches the band's ambition and certainly plays into its title, both lyrically and melodically. Clocking in at just under an hour across 10 songs, it's a wild ride, barely allowing you to pause for breath between sweeping melodies like a train refusing to stop. But it always feels like it knows where it's going, where the final destination is.
The last few stops on the journey are a real experience. The three final songs merge into one twenty-minute symphony of sound, starting with their newly released single 'Overbite', followed by an instrumental, guitar-heavy build-up in 'The Ghost' and an 8-minute finale 'Down in Heaven', which plays like a hangover from the tracks that came before it. The lyrics "I did it to myself" repeat over and over as the album plays out, capping off an existential voyage.
"The title of the album is a bit of a get-out-of-jail-free card for anyone who says we're being completely self indulgent. In the vein of classic double albums, I thought it would be hilarious that on our debut album we would have this ridiculously self-indulgent three-part saga.
"The first part of that was 'Overbite'. Our writing process has shifted throughout the years, originally it was just me providing everything and telling people what to say. Now it sits somewhere in the middle.
"With that song it's probably the first time that Alan had tried to write something with the band's sound in mind, with the aesthetic that we had established. So he wrote pretty much all the music for 'Overbite' and I wrote the lyrics based on his mumbled scratch vocal over the top of it.
"So that was the most cut and dry collaboratively. But obviously, us being us, that was too easy. What if after it ends, it opens up into this whole section and it builds one layer on top of each layer of guitar and it takes ages? This was purely conceptual, but Alan just thought about it, went back to his demos and just picked one which was almost exactly as I had described.
"Once we had those two pieces it was just like 'fuck it, we'll keep going'. That was a challenge and totally outside of our comfort zone in terms of what people expected or potentially wanted from us. There's a few moments like that on the album with all the time we were just like why not push ourselves."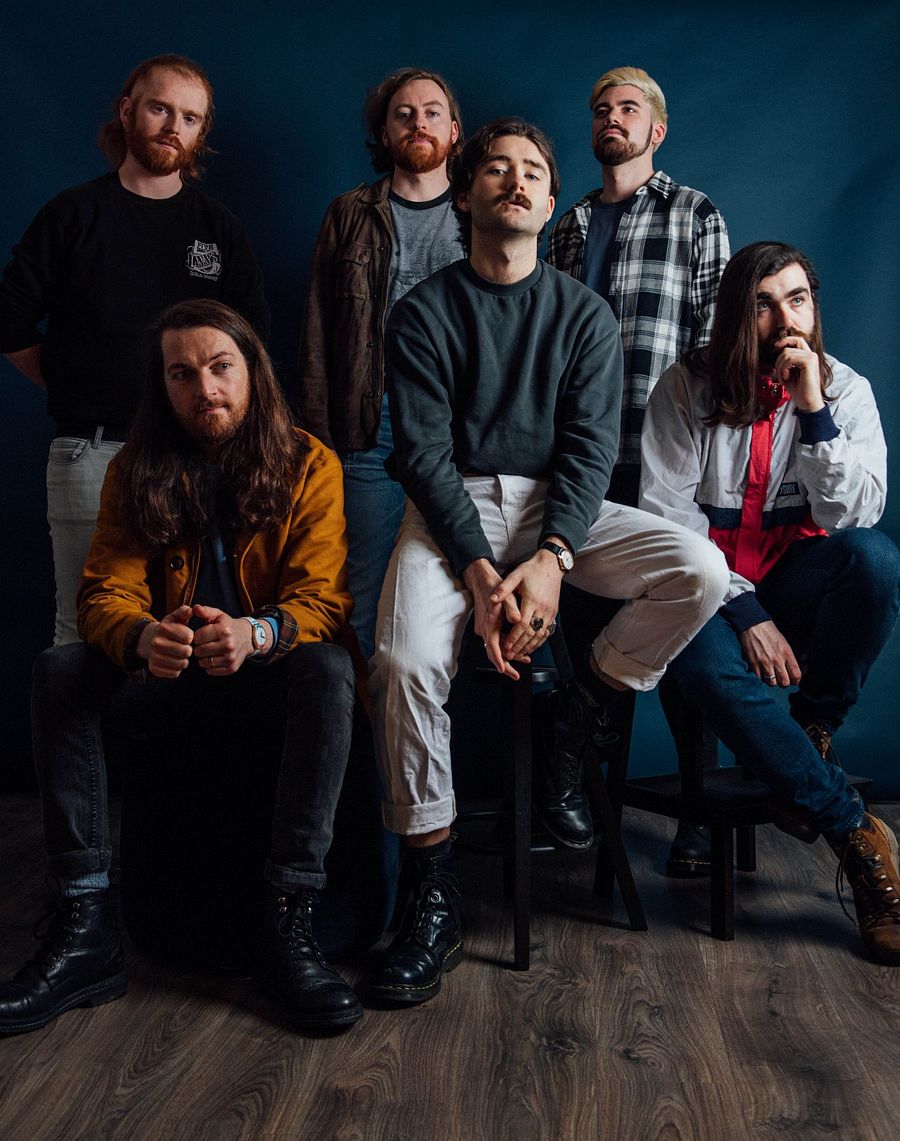 During our chat, we talk about growing up in similar areas of North County Dublin and attending local gigs as students. Throughout that time, Leahy Furlong knew he was destined to perform, but struggled with self consciousness around singing.
Going to gigs as a teenager he would think, "I want to do this 100% but right now I'm not prepared to get on the stage. At that point I was already writing tunes but they were demos with me at an absolute whisper, because I was dying hearing myself."
But now, he says he's accepted his strengths and weaknesses as a musician. "I really enjoy singing now. It's totally visceral and I try to employ as much technique as possible but at the end of the day, it's like this sort of enjoyable mountain I have to climb each time. I'm certainly not scared of it anymore. But maybe that's a good catalyst for getting shit done, just being like, 'I can't do it, I want to do it, how do I get there?'"
Our conversation returns to the music scene around Dublin yet again. We talk about hip-hop becoming the forefront of Irish sound over the past few years. Leahy Furlong mentions people of a certain vintage "wigging out" when they hear THUMPER, seeing the band's sound as a throwback to guitar music of decades past.
Despite rock's decline from the mainstream, the singer is confident of THUMPER's place on the music scene.
"If anything we're confident because we have created our own world for ourselves that isn't beholden to any trends really. Certainly I'm sure our manager would love it if we were to pop out a post-punk album and get rid of one of our drummers, but this is what we sound like. This is the band.
"We're doubling down on a world we created a long time ago and we just have to hope people like it."
THUMPER's debut album 'Delusions of Grandeur' comes out Friday, March 18. They support Damien Dempsey in Collins Barracks that night and on March 19, they play their album launch in The Grand Social - tickets can be bought here.