The Interview: Ed Guiney & Andrew Lowe of Element Pictures
In 2001, Element Pictures was set up by Ed Guiney and Andrew Lowe.
Since then, there's been no discernible way of tracing what movies they've thrown their lot behind. Broad comedies like 'Adam & Paul' and 'The Guard' sit comfortably alongside dramas such as Ken Loach's 'The Wind That Shakes The Barley' and TV productions like 'Red Rock' and 'Charlie'.
2015's 'Room' saw Element Pictures, in a co-production with Film4 and FilmNation, enter the Academy Awards. Its lead, Brie Larson, picked up the Oscar for Best Actress.
'Room' director and longtime Element Pictures collaborator, Lenny Abrahamson, was nominated for Best Director whilst the movie itself was nominated for Best Picture. When we spoke to Guiney and Lowe, it had been a few days after 'The Favourite' picked up 10 nominations at this year's Oscars - tying with Netflix's 'Roma'.
When asked how they felt about it, Ed admitted - in a calm, orderly way - that he was "slightly bowled over by it," and said that while he expected a couple, ten seemed unexpected - but in a good way.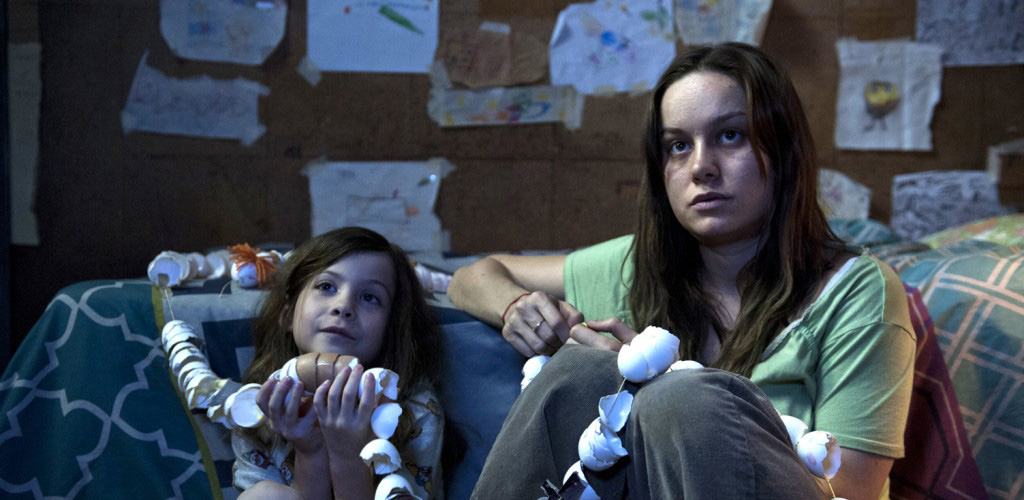 Brie Larson & Jacob Tremblay in 'Room', 2015
What's your take on Oscar campaigns? Are they an essential part of getting a movie nominated? Or are you even involved in it?
Andrew Lowe: You know it would be naive to assume that every nomination isn't backed by some form of campaign and the reality is, it's a large constituency to cover the Oscars with 7000 plus members of the Academy. The challenge is to make sure that as many people as possible see the film. You know we've got the spectre this year of everywhere you turn, Netflix is spending a phenomenal amount of money on promoting 'Roma'. It's one of the most expensive campaigns ever.
$30 million, I heard.
Andrew: Yeah, I don't know precise figures, but it's massive. So you know, part of putting the film together, part of our decision-making around who we partnered with was was choosing to work with Fox Searchlight as our worldwide distributor. They have a really preeminent track record when it comes to delivering an awards recognition for their films. That means they're good at what they do, and they understand the process well. So yeah I mean, I think in short we were very acutely aware of what goes into it, what it takes for campaigns to work. A film like 'The Favourite' focuses understandably, primarily, on the talent.
And, obviously, it worked.
Ed: Yeah, I mean it's like, the awards are great everything - but what they really do is they encourage more people to go and see the film. It's so important and so crucial and if you think like a film like 'Room', which was a hard film to get people to go and see. The sell was hard, or "the overcome" was hard. Y'know, it doesn't sound like the most entertaining night out, but y'know, getting whatever we got, three Globe nominations and then four Oscar nominations, and a win for each, was really important in kind of saying to people, "Listen it's OK it's worth seeing - this is a film that kind of even though, y'know, you might think it's a bit of a tough watch actually, it's really an excellent film. Please, go see it." Many, many people went to see on that basis.
It's the same with 'The Favourite'. I mean, that kind of probably is an easier sell. You know, a kind of acid-black comedy period piece with that cast. But still, there are people who'd be slow to go and see it as maybe, y'know, it's not for it's not for them or whatever. And then when it gets these nominations, it opens up the box office and people think, "Oh, OK, I should go see this."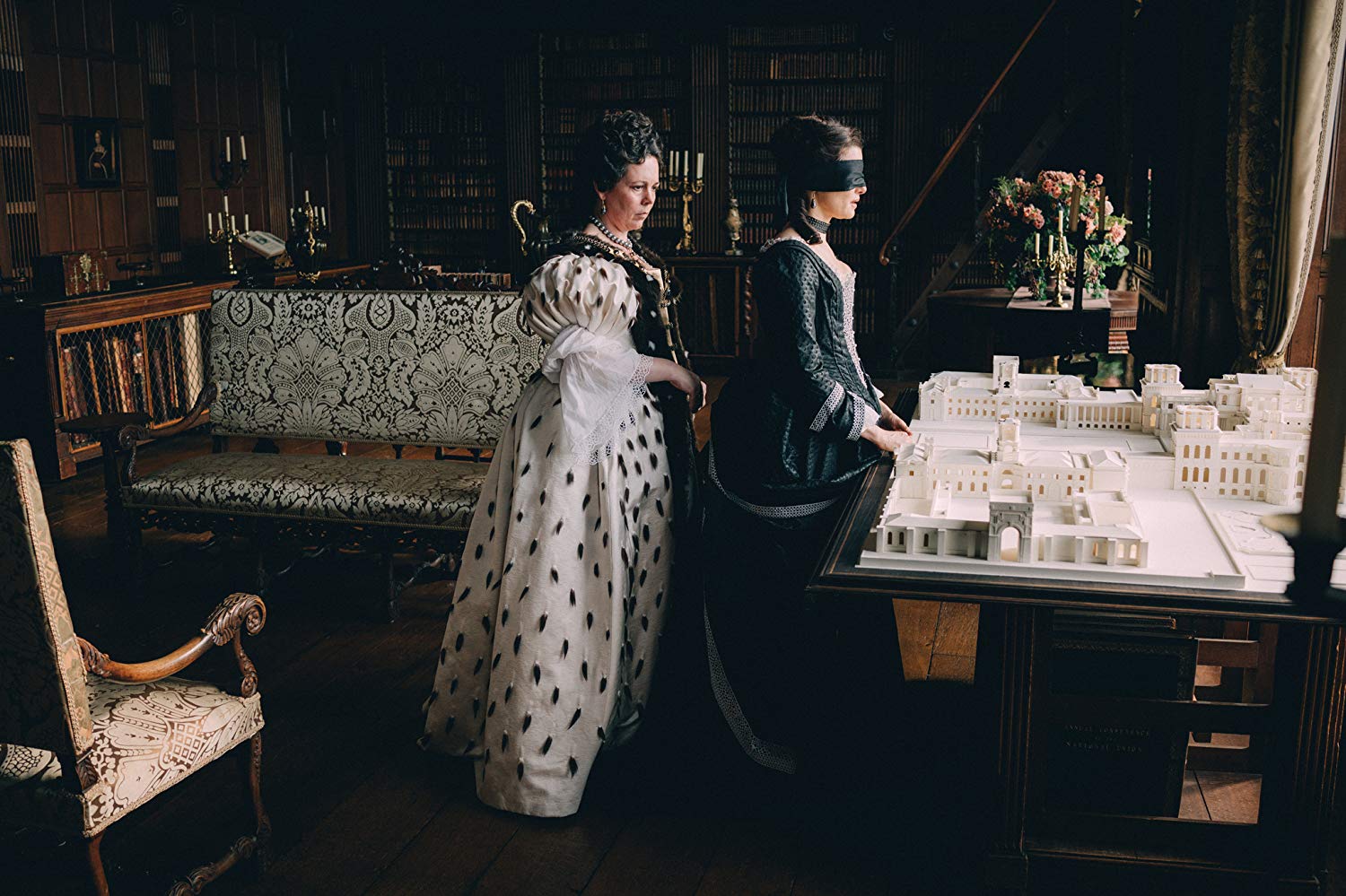 Olivia Coleman & Rachel Weisz in 'The Favourite', 2018
I spoke to Yorgos Lanthimos (the director of 'The Favourite') when he was over promoting and I asked him what was it about his working relationship with Element, and how was it that you've come to work together as successfully as you have?
Ed: We started working together actually on this, 'The Favourite'. We started to develop it, he moved to the UK, and then we made 'The Lobster', and then 'The Killing Of A Sacred Deer', so we made two films before the one we originally wanted to make. I think it's sort of, y'know, he's a very particular filmmaker. He likes to work in a very particular way. And I think as we've may now made three movies with him, I think we understand the way he likes to work and the environment which he likes to work and I think we can refine that going forward and make it even more productive and pleasant for everybody going forward - and I think we trust each other.
I mean, 'The Favourite' was a very challenging film to make and, in a way, that kind of tests your friendships and your relationships. We've come out the other side, expecting and hoping to make more films with each other. But, y'know, none of these relationships are necessarily for life and you know you have to kind of earn the trust of the people you work with - and that would be very much the way we'd look at it; that we really hope that we can work with him going forward, and I'm sure we will. That means we have to properly look after him, and give him the environment he needs to work in.
Do you see Element continuing on in this way? By that I mean, these really indie, auteur-driven movies. Would you ever see yourselves making something like, I don't know, a horror or a genre film?
Ed:I mean, we're constantly evolving as a company and we're constantly thinking about what we would want to do going forward and we're obviously doing a lot more television. We'd never rule anything out. I mean, I don't think we're particularly interested in making kind of tentpole movies for young men, but would we do a classy genre movie? For sure. Absolutely.
But, y'know, we're always guided by the talent we work with - the writers, the directors, indeed the raw material in the books. I think our ambition is always to do things that are distinctive and stick out and will be, I guess, spotlighted in the morass (laughs) of films and television out there. We'd never wanna do just a horror movie, but would we want do something special and distinctive? Yeah, sure, if we believed in the director and believed in the material.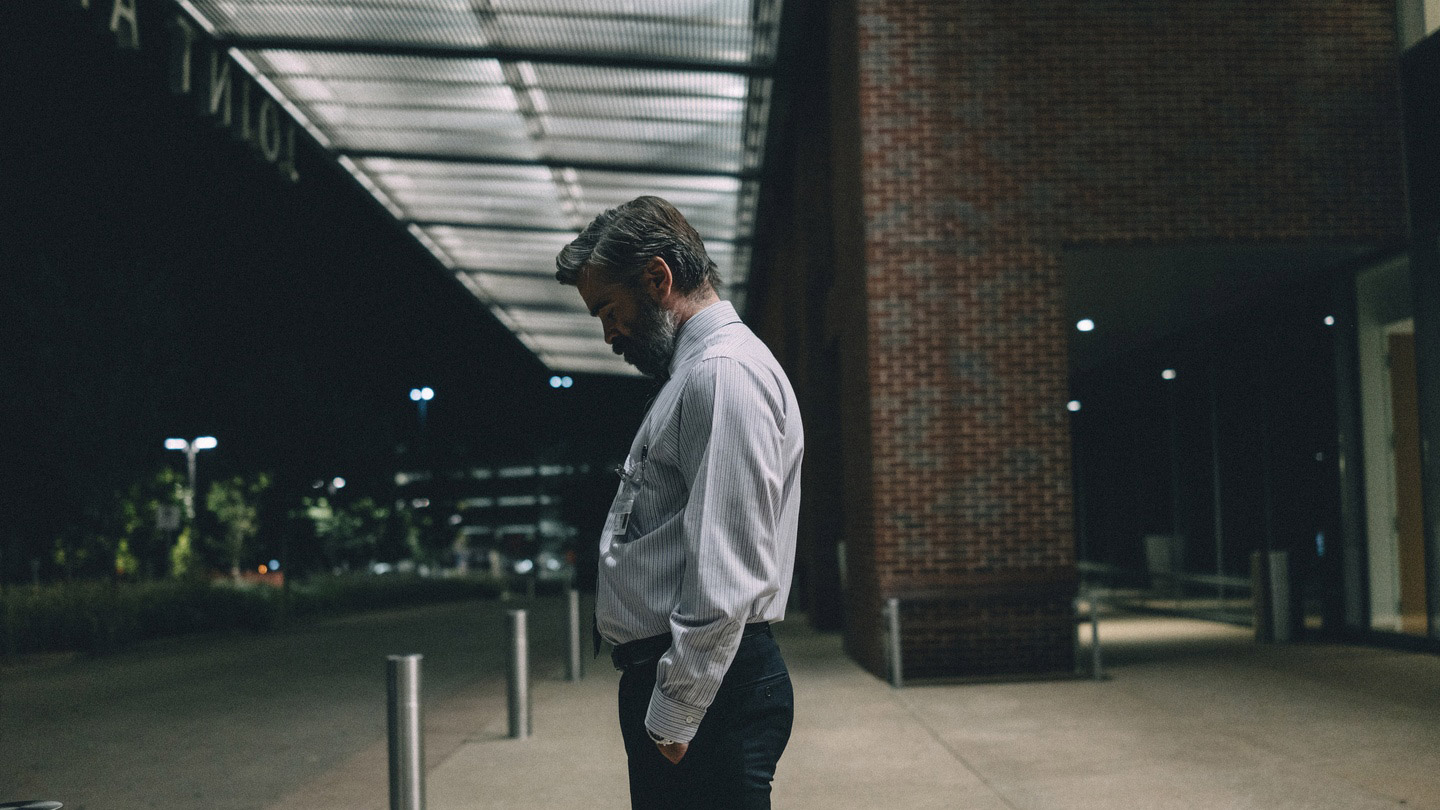 Colin Farrell in 'The Killing Of A Sacred Deer', 2017
On the subject of television, what's coming up?
Ed:Well, as you know, there's massive demand for content at the moment. And I think again, it's sort of related to the point you just made there. I think for content to really work, it's got to be very distinctive and brilliant and special and different and again, we're always guided by that. We're making a TV show at the minute for BBC, 'The Dublin Murders', based on Tana French's novels. We're making a TV show based on Sally Rooney's 'Normal People', which Lenny (Abrahamson) is going to direct. It's an incredible piece of material, with an incredible filmmaker. And so that absolutely ticks all the boxes in terms of being distinctive and high quality and different and something that might really pop. So, yeah, we plan on being very busy.
Final question, what's the one misconception you had about the Oscars on the night that, I don't know, shocked you?
Andrew: I don't know if it was shocking, but it was a pleasant surprise to find that there were bars you could nip out to and have a drink in between the breaks.
Oh, That's nice.
Andrew: Another thing, I mean, speaking for Ed, but it was nice to see we actually knew a lot more people there than we expected. It's a really nice gathering of everyone you might have ever known in the industry. It's quite a convivial atmosphere notwithstanding the fact that it's competitive when people are up against each other.
Ed: Yeah, that's a good point. It happened on 'Room' and it happened on 'The Favourite', you know it's the beginning of the autumn and people are writing about what the Oscar contenders are for next year and it's a long list, and as you move into Christmas and the bigger awards, the list gets shorter and shorter and you're down to eight to ten movies - BAFTA nominated, Globe nominated and then Oscar nominated. And, y'know, the campaign started for us in Venice in August, so by the time you get to this time of year, you've you've actually been with all of these people for quite a long time.
So actually, the real camaraderie and friendships grow and you see each other's films and you hang out together and you're all kind of together although you're competing, you're not competing the way you do if you're playing a football game. It's not a contact sport in that sense. So yeah, to find friendship and fun and...
And be supportive as well, I guess.
Ed:Yeah, exactly, you know what everyone's going through. I mean, obviously, you want you want your thing to win but usually you kind of understand the dynamics at play. It's like Andrew said, it's a lot more convivial than you'd expect.
If you win Best Picture, obviously, it's an Irish production company winning Best Picture - that's going to have an effect - but on the day-to-day side of things, will anything change?
Ed: I mean, the truth is it would be amazing if we won. But I know that sounds like a cliche, but the fact is that it's the second time that we've had a film that's nominated for Best Picture.Very few non-American companies have achieved that, and that we've worked with big name actors means that... yes, it would be lovely, but it's not going to change the business fundamentally. We had success in Cannes and Venice with this and 'Room', and 'The Lobster', so the game changers - if you like - have already happened.
Andrew: It's an exciting time and it's great to be part of it and, you know, hopefully at least some of those nominations will translate to wins. But we'll see. It helps with reputation, it helps with perspective, but no, it's not going to change anything for us.