Growing up in Dublin's Summerhill, it's pretty unlikely that Barry Keoghan could ever have imagined becoming a member of the Academy.
However, that is precisely what has happened as the 26-year-old is one of the newest members of The Academy of Motion Picture Arts and Sciences.
The organisation, of course, is responsible for the Oscars. Its almost 9000-strong membership is comprised of film professionals who are eligible to vote for the winners each year.
In total, 842 new members have just been invited to join. 29% of them arepeople of colour (a blatant response to the #OscarsSoWhite controversy) and half are women.
Along with Keoghan, new invitees include Lady Gaga, Claire Foy, Will Poulter, Damian Lewis, Amanda Peet, Tom Holland, Alexander Skarsgard and Natascha McElhone.
We can take it from his Instagram story that he has accepted: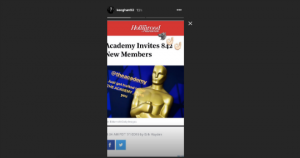 Keoghan's career continues to go from strength to strength, with a lead role in comic book adaptation 'Y: The Last Man' just one of his forthcoming projects.