Last Thursday saw the finale of Legion's first season and while it ended on a cliffhanger, it wrapped up a number of disparate storylines and managed to easily set out its stall for the next season.
Coming into Legion, showrunner / creator Noah Hawley and the creative team behind the series have made clear their influences and what they're driving at. As has been said before, most comic-book adaptations work off the basis of a genre and bend that particular property to fit tropes of said genre. Captain America: The Winter Soldier was an espionage thriller. Guardians Of The Galaxy was a sci-fi action comedy along the lines of Innerspace. The Dark Knight was Michael Mann's Heat with capes and the Batmobile / Tumbler.
With television adaptations of comic books, it's the same bit. Netflix's array of properties - namely Luke Cage, Jessica Jones, Daredevil and the runt of the litter, Iron Fist - have followed the same idea. Luke Cage was an attempt at making The Wire in the Marvel universe, Jessica Jones was a gritty detective noir, Iron Fist was... who knows. With this in mind, it's hard to classify Legion into any one genre because the whole premise of the show is that conventions and systems of control are those we make for ourselves. That said, the closest thing you could compare Legion with is something along the lines of '60s psychedelic thrillers like The Prisoner or, some kind of psychological horror like Jacob's Ladder.
Dan Stevens' character, David Haller, is someone who has been told his entire life that he is schizophrenic, but the reality - such as we, the audience, can determine - is that he's a mutant with extraordinary abilities. Through the course of the series, it's revealed that he has been infected with a parasite (Aubrey Plaza) that's referred to by a number of names - Lenny, Faroukh, The Shadow King - who wants to take over his being. Helping him sort this out is a team of misfit mutants, headed by Fargo alum Jean Smart, who are hiding out in a forest sanctuary that looks like it was designed by Kubrick and Eames.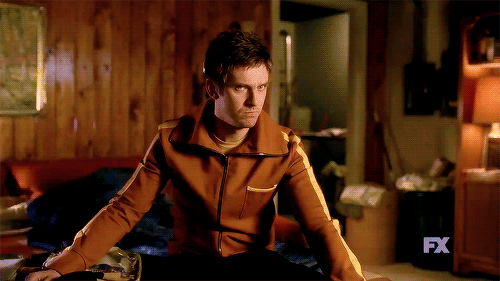 You might think that Legion is rooted in style and design, and it is, but what's made the series so exciting to watch is just how far the series can push out the weirdness and still keep audiences coming back for more. There are extended sequences where, when you say them out loud, make absolutely no sense whatsoever. For example, Dan Stevens' character meets the husband of Jean Smart's character inside an ice cube on the astral plane where he talks about slam poetry and free jazz. The actor playing Jean Smart's husband? Jemaine Clement of Flight Of The Conchords.
And again, you might think that that would lose you completely, yet it's completely compelling because time and again, Legion reminds you that it's OK to be different and that the world needs and flourishes with weirdos out there. There are a few times when the show does become a little bit indulgent, but it's never not entertaining. One episode pauses proceedings to go into a musical number with Aubrey Plaza's demented villain doing a sexy musical number, whilst another sequence sees a tearful and frightened Dan Stevens sing Rainbow Connection - yes, The Muppets' Rainbow Connection - inside a white room where he's been trapped by Aubrey Plaza.
The performances, right through the cast, are pitch-perfect. Dan Stevens manages to convey boldness and confidence in one scene, terrifying paranoia and rage in the next, and humour and warmth in the other - all without breaking a sweat and making it convincing along the way. The real breakout, however, is Aubrey Plaza as the villain. When she's first introduced, you almost think she's there as a sort of comedic relief, but it soon becomes apparent that there's something deeply disturbing about her and the eventual reveal goes into almost David Lynch territory. Jean Smart, meanwhile, serves as the anchor for all the weirdness, but also showcases a vulnerability that hasn't been seen before in her previous roles.
What sets Legion apart from other comic-book adaptations on television is that it's trying, really trying, to be different and not simply conform to what you'd expect. Exposition is only handed out when it's needed, there's no "world-building" and the special effects are more stylishly executed than you've ever seen before. It's a weird, markedly different take on familiar territory - superheroes finding their power and accepting that they're different - but Legion manages to pull it off with such style and flair that it's hard not to be impressed by it.
TV shows, comic-book adaptations or otherwise, could learn a thing or two from being this smart and different.