You may have read our feature from a few years ago, 100 Movies You Need To See Before You Die, where we listed out some of our favourite movies across all genres and years.
As you can imagine, time has passed and tastes and opinions change with them - so we're updating our list of the best films of all time. We've previously covered documentaries and animated films, and now we're moving into comedies and horrors, with drama, foreign language, thrillers and much more still to come.
100 Movies You Need To See Before You Die (100 - 80)
79. THE LEGO MOVIE (2014)
When The Lego Movie was first announced back in 2012, pretty much everyone collectively groaned and rolled their eyes at the prospect of turning something as innocuous and trivial as Lego into a film. Yet, Phil Lord and Chris Miller approached it with the kind of intelligence and humour that's sorely lacking from the vast majority of comedies nowadays. The film wasn't about Lego; that was the jumping-off point. What it was really about was individuality, non-conformity, imagination and uniqueness - something that's sorely lacking from mainstream comedies nowadays.
78. IN THE LOOP (2009)
'Shut it, Love Actually!' If ever there was a man to deliver a line such as this and make it sound equally terrifying and hilarious, it's Malcolm Tucker. Based on the hit BBC series, The Thick Of It, In The Loop manages to insult Scottish people, posh people, Americans, the Middle East, OAPs, Harry Potter fans and anyone with a distaste for salty language. The new Doctor Who, Peter Capaldi, plays Malcolm Tucker – a government spin-doctor gifted with the ability to curse better than any human alive. Set during the build-up to the Iraq War, the film brilliantly pokes fun at international politics, local politics and the ineffectiveness of international diplomacy in a modern world where truth is whatever you make of it. Reading that may make it seem like heavy stuff, but if you're a fan of fly-on-the-wall comedy, In The Loop is one of the best. HBO's comedy series Veep was essentially built off the back of this.
77. THE BIG LEBOWSKI (1998)
The Coen Brothers began their career with offbeat comedies such as Raising Arizona and Barton Fink, but they truly hit their zenith with The Big Lebowski. Jeff Bridges, in probably the most recognisable role of his career, is Jeffrey 'The Dude' Lebowski - a down-and-out stoner who is pulled into a detective story involving the kidnapped wife of Jeffrey Lebowski, a paraplegic millionaire who doesn't tolerate idleness. The real star of the film, however, is John Goodman as Walter Sobchak. It's said that the Coens based 95% of the character on John Milius, a well-known screenwriter and director known for his politically-conservative views. Frequently silly and endlessly quotable, The Big Lebowski is the crowning jewel in the Coen Brothers' comedic filmography.
76. BLAZING SADDLES (1974)
It's hard to imagine a film that is so violently subversive, so hilariously crass and still so completely relevant as Blazing Saddles. Gene Wilder and Cleavon Little are two gunslingers who are trying to fight off the local railroad from taking over the town of Rock Ridge. It's all standard stuff in Westerns, but it's funnelled through Mel Brooks' anarchic comedy filter and comes out something completely. Indeed, what makes Blazing Saddles so funny is how it takes the tropes of Westerns and completely takes the piss out of them in the process. It even descends into a fourth-wall breaking musical comedy by the end of the film. That's how weird and funny it gets. It also has the dubious honour of being the first theatrically-released film to feature a fart sound effect.
75. SUPER TROOPERS (2001)
A hugely underrated comedy, Super Troopers was unfairly lumped in with the gross-out comedies of the late '90s and early '00s. If anything, it's more closer to the early works of John Landis and borrows heavily from the likes of Animal House, Trading Places and Stripes. A group of cops in rural America manage to stumble across an interstate drug trafficking ring, but have to work against their own impulses to be screw-ups and save the day. The straightforward nature of the story allows for a ring-fence in which comedy is allowed to flourish, and flourish it does. The jokes aren't smart, but they're bawdy and fun and very, very entertaining. Featuring an unusual cast that includes Brian Cox (really), Lynda Carter and Jim Gaffigan in a key scene, Super Troopers is unashamedly and raucously funny.
74. MIDNIGHT RUN (1988)
Far and away, Midnight Run is the best comedy Robert DeNiro has ever been a part of. It's a recurring theme in DeNiro's career that he should have stopped while he was ahead as everything after Midnight Run - Meet The Parents, the abominable Dirty Grandpa - didn't even come close to touching it. Directed by Martin Brest, DeNiro plays a down-on-his-luck bail bondsman who's ordered to travel with a star witness - played by Charles Grodin - across America. What's meant to be a simple job turns into a screwball comedy, with DeNiro becoming increasingly irate with hilarious results. It's often overlooked when discussing DeNiro's filmography, but it remains the finest comedic achievement of his career.
73. MONTY PYTHON'S LIFE OF BRIAN (1979)
Any film that's banned here in Ireland is automatically worth watching, but the reason for Life Of Brian's banning here was particularly stupid. Essentially, the furore was down to the fact that the Irish film censor believed it to be blasphemous; mocking Jesus Christ. Yet, if they bothered to watch the film at all, they would have noted that Jesus is mentioned once in the film and it's entirely positive and verbatim from the Bible; wherein Jesus recites the Beatitudes. The film takes off from there, where we see the Monty Python crew in 33AD Jerusalem poking fun at organised religion from every possible angle. Probably the most complete of the Monty Python films - The Meaning Of Life was essentially a sketch show whilst the Holy Grail ran out of money and had no ending - Life of Brian is a brilliantly funny and deceptively smart film.
72. TEAM AMERICA: WORLD POLICE (2004)
Trey Parker and Matt Stone have, both with South Park and Team America: World Police, defined comedy in the new millennium. It's equal parts ridiculously offensive, outrageous and deeply insightful. On the surface, Team America looks like a marionette-driven slapstick blockbuster. On another level, it examines the American relationship with foreign policy, with its own media and even how it views itself. To get all that and forever more branding Matt Damon as MATT DAMON is a huge achievement. Team America: World Police is easily one of the best comedies of the new millennium.
71. HUNT FOR THE WILDERPEOPLE (2016)
Hunt For The Wilderpeople was like a breath of fresh air on its release and holds up even more so on repeated viewings. Sam Neill, eschewing his usual straight-backed and genteel characters for a bearded, gruff survivalist who is reluctantly paired with "a real bad egg" in the form of Julian Dennison. Hunting them is comedy double-act Rachel House and Oscar Kightly, with one-liners to beat the band. Underneath the comedy, Hunt For The Wilderpeople is a story about responsibility and freedom and the war between the two, something that director Taika Waititi knows a lot about as he went from this to Marvel with Thor: Ragnarok.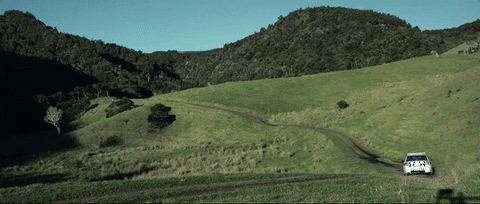 70. BORAT (2006)
When you look at Sacha Baron Cohen's more recent work, it's clear just how far the man has fallen in terms of quality. Grimsby was a dim, schlocky and crude "comedy" with no fun to be had whatsoever. The Dictator was far too serious and unappealing to be taken seriously. Even his supporting roles in the likes of Alice Through The Looking Glass were all sub-par. Outside of Ali G, Borat was Cohen's greatest achievement. The sheer lack of awareness the character has, the pointed jabs at American sensibilities, it all worked incredibly well and made for some of the cringiest moments ever caught on camera.
69. SUSPIRIA (1978)
Dario Argento's work can be categorised by one word – violent. Very, very violent. Suspiria features a grotesque amount of blood and gore, but it also meshes these elements with incredible visuals and a keen eye for design and art. A beautiful young ballerina arrives at a prestigious school where, as the film emerges, is home to a coven of witches. The director specifically chose camera fliters and set designs that made the protagonist seem much smaller than her surroundings. Combing unsettling visuals, gleeful violence and an ominous psychedelic rock soundtrack and you have one of the crowning achievements in Italian horror.
68. CANNIBAL HOLOCAUST (1980)
When we talk about found footage films, Blair Witch Project is often cited as the first example - but this is incorrect. Cannibal Holocaust was the first of its kind to use the idea of "found" footage in a film. In fact, the idea was so effective that many believed they were viewing a snuff film. A local magistrate in Italy ordered reels of the film to be seized and its director, Ruggero Deodato, to be placed under arrest for obscenity charges, and were later upgraded to murder charges when an article in a French magazine claimed the murders shown on the film were real. A trial took place and, in order to prove his innocence, Deodato had to bring in the actors to court to prove they were alive. He even had to explain how the infamous 'impalement' scene worked. Looking back on it now, Cannibal Holocaust is still deeply disturbing and it's no surprise that the film was banned here in Ireland. Riz Ortolani's beautiful score is completely at odds with the brutal violence on screen, which almost heightens it in a certain way. Not for the faint-hearted.
67. IT FOLLOWS (2014)
Drive sparked a wave of interest in '80s aesthetics and a reevaluation of the films of the decade and their sense of style over substance. With It Follows, it takes in elements of the decade and then funnels it through a fascinating script and believable performers to make something truly timeless. There are so few horrors in the modern age like It Follows that allow themselves to be interpreted in various ways. Some might argue that the 'It' is an allegory to sexually transmitted diseases like HIV / AIDS, others might even claim the disease is human intimacy and being vulnerable. Whatever It is, the film works as an effective and stylish chiller with a fantastic central premise.
66. AMERICAN PSYCHO (2000)
American Psycho isn't just one of the best horror films ever made, it's also one of the sharpest satires you're ever likely to see. Bret Easton Ellis considered Bateman and his antics as the eventual endpoint of consumerism; that we would eventually reach a point where there would be no emotions, except for greed and disgust. Christian Bale gave his greatest performance as the psychotic stockbroker who liked to dissect girls and wear Valentino Couture suits whilst making pompous and faux-intellectual observations about commercial pop music. Just like Bateman, the film is all surface and glittering, but beneath the surface is oil-black humour and a real streak of cynicism that's just incredible to watch. Do you like Huey Lewis and The News?
65. SE7EN (1995)
Although David Fincher is often accused - perhaps not entirely without reason - of being too cold and clinical with his films, Se7en is a deeply emotional story and the ending is probably one of the most harrowing sequences in the horror genre. As Fincher describes it, it was "a tiny genre picture, the kind that William Friedkin would have made after The Exorcist," and was drawn to how it was less of a "police procedural and more a meditation on evil." That evil was personified by Kevin Spacey, who bravely refused his name to be placed on posters or marquees so as to give audiences a true experience when he's revealed. Slick, deeply disturbing and smartly written, Se7en had it all.
64. THE THING (1982)
John Carpenter's The Thing is the ultimate in paranoia horror in any decade. The logline of the film just says it all - Man Is The Warmest Place To Hide. Like The Evil Dead, like the next entry, what The Thing does spectacularly well is create a palpable sense of dread by using atmosphere, framing, music and colours. The stark white that surrounds the base shows that they are completely and utterly isolated from the outside world, whereas the deep shadows and small corridors on the inside show that they are closed in. Carpenter manages to blend two trains of thought when it comes to the monster - less is more, but also when he does decide to show you the monster, he does it in the most outward fashion. What makes the creature all the more frightening is that, in reality, it has no shape. It looks like us, it talks like us - it is us.
63. SCREAM (1996)
Although subsequent sequels and a poor TV series might have diluted it, Scream is still a film that holds up incredibly well after almost twenty years and still feels fresh and intelligent. Wes Craven, easily one of the most recognisable horror directors of our generation, was on fire and brilliantly subverting the tropes and genre that he himself had helped define. Couple that with a cast of up-and-comers like Neve Campbell, Courtney Cox and Rose MacGowan and a fiendishly clever premise and you've got the defining slasher film of the '90s and a pop-culture phenomenon to boot. The best out of the entire series.
62. THE FLY (1986)
David Cronenberg's preoccupation with bodily functions and the idea of flesh as horror is a fascinating one. It's hard to know exactly where it comes from, whether it's about the diseased remains of society or if it's agent of personal change and growth. The Fly is easily Cronenberg's most recognisable film and one of his last horrors. Based on a remake of the 1958 film, Jeff Goldblum plays a mildly eccentric scientist whose invention - teleportation through pods - will undoubtedly change the world. As he begins a relationship with science journalist Geena Davis, he resolves him to test his creation. Of course, it doesn't go well. Like all Cronenberg body horrors, the idea of change and purity of change is a factor. Goldblum's character initially believes that the change in him is a positive, but it slowly begins to destroy him and change him into something inhuman. It's only at the very end - literally, the final scene - that we see the human return and it's begging for death. Was that its desire all along? Was the human still inside or was it just because its plan had failed? It's hard to know, but one thing's for sure - The Fly is unlike any other horror film on this entire list.
61. THE SILENCE OF THE LAMBS (1991)
In the space of just two years - 1990 and 1991 - horror had gone from video nasties and moral panic to a respected genre. Misery, which was classed more as a psychological thriller than a straight-up horror, had scored a Best Actress Oscar and now, Anthony Hopkins would win a Best Actor for Hannibal Lecter. Paired with Jodie Foster and director Jonathan Demme, Hopkins created a frightening portrayal of a monster with no compunction about slicing off someone's face to survive and evade capture - so yes, it's absolutely a horror film and trying to mask it (pun intended) as a psychological thriller just stinks of snobbery. What made Silence of the Lambs more frightening, however, was the sexual politics that were shown. Starling, a bright and talented investigator, is consistently talked down to by superiors by virtue of her gender and is often greeted with comments about her beauty. As well as this, Ted Levine's sheer transformation into Buffalo Bill is just incredible and marked him out as a truly physical actor.
60. THE SHINING (1980)
What can be said about The Shining that hasn't already been said? If you're looking for a deeper reading of The Shining, check out the documentary Room 237. It explores all the supposed hidden meanings and 'Easter eggs' that Kubrick patterned throughout the film. If 2001: A Space Odyssey is the greatest sci-fi film ever made, The Shining is the greatest horror film ever made. Like The Thing, the horror is that Jack Torrance is you and could be you. Isolationism is the catalyst, sure, but there's something underneath the skin that comes out when put under a microscope. The stories around The Shining are just as frightening. Kubrick specifically tormented Shelley Duvall and pushed her close to nervous breakdown. Jack Nicholson improvised much of his scenes, due to Kubrick's changing of the script on a daily basis. All the insane range came from within Nicholson, probably driven from his frustration at the arduous production. The symbolism of the film is also impressive. The Native American iconography, the subtle touches in the camerawork, you could dissect the film a million times over and still find something new in every frame and scene. Thirty-seven years later, it's still the best horror film ever made. Nothing's come close to topping it.